Stories

How the Squamish Nation and partners made history
May 3, 2023
by Wayne Moriarty and Tracy Jager for the Indigenous Partnerships Success Showcase
The Squamish Nation Environmental Assessment Agreements signed with Woodfibre LNG in 2015 (for its liquefied natural gas export terminal), and with FortisBC in 2016 (for its planned Eagle Mountain-Woodfibre gas pipeline) were landmark agreements giving the Squamish Nation full and independent environmental oversight on the work being done on their traditional territory.
But as Roger Dall'Antonia, FortisBC CEO, and Chief Ian Campbell, hereditary leader of the Squamish Nation, made clear during their fireside chat at the 2022 Indigenous Partnerships Success Showcase (IPSS), FortisBC and the Squamish Nation had already developed a good working relationship. It began in the lead-up to the 2010 Olympic Games when the company upgraded its gas line to Whistler.
"But for the Woodfibre project itself, this was an important contemplation," says Campbell. "Why support a new entrant in the market when it comes to an export facility?"
"Howe Sound was the focal point with the return of herring biomass, with cetaceans returning . . . after decades of absence. We had to ask ourselves the fundamental question, 'How do you pair a new project with this trend of revitalization? Are they compatible? What are the risks?'"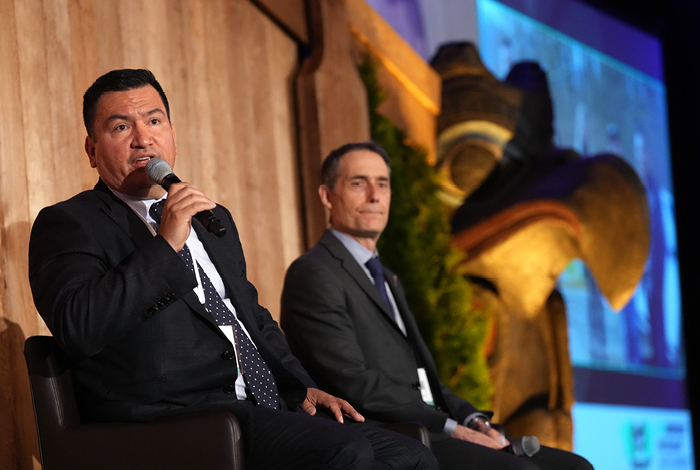 Chief Ian Campbell (left) and FortisBC CEO Roger Dall'Antonia reveal learnings from developing the first-ever binding Indigenous-led environmental assessment of pipeline project in Canada.
Campbell says that the real process of the Squamish Nation considering environmental assessments began in 2003 when they underwent their own planning and identified sacred areas in their territory. This involved a couple of years of consultation with community members.
"We looked at protection, conservancies, of about eight percent of our territory, 50,000 hectares—some of the last non-roaded, non-developed parts of our territories."
Looking at cultural and spiritual values was very important to the Squamish Nation. And that really set the tone in forging our relationship and then developing a process that has a start and finish and creates greater certainty.
Chief Ian Campbell
Dall'Antonia says the agreement was unique for a couple of reasons. Usually, an environmental assessment involves interveners, but the process with the Squamish Nation meant the company would have a direct dialogue. "Having a direct, independent, Indigenous-led review allowed for more direct two-way communication. It also allowed us to have a better understanding of their priorities, not just the environmental, but the cultural, priorities, in the project."
Also unique was that FortisBC entered the process voluntarily.
"The reason we wanted to be involved was to make sure that we could set a precedent, if you will, for future type reviews in different parts of the province," said Dall'Antonia.
The learnings that we gathered as an organization, the cultural awareness, the awareness of the history, it really has allowed us to become better at considering Indigenous perspectives when we consider projects… We now have a bit more of a framework on how to do that in a more natural way.
Roger Dall'Antonia
Campbell notes that taking on the responsibility of environmental oversight required the Squamish Nation to scale up operations and staffing to meet the needs of enforcement and monitoring. "Once those are satisfied, we then move toward the IBAs, the Impact Benefit Agreements, where there's significant value around procurement and opportunities for our members to participate in the pre-construction."
For those considering doing independent environmental assessments, Campbell suggests thinking about the whole lifecycle of a project and then determining whether the nation has the wherewithal or the appetite to do a full independent environmental assessment, or instead does a quasi-independent assessment where the nation draws from other analyses and fills in gaps around cultural and spiritual and environmental values.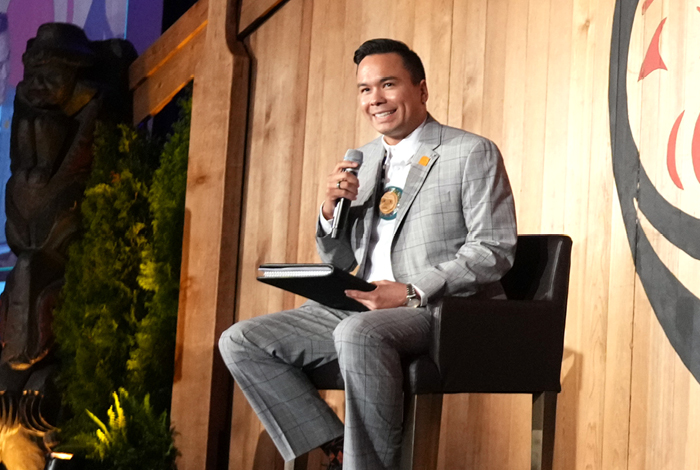 Squamish actor Simon Baker facilitated the panel.
Similarly, Dall'Antonia urges companies to consider whether they have the infrastructure to commit to such a process.
"It doesn't make sense to say, 'We'll do it,' but then not have the resources within your own organization that can support the relationship. Because the relationship will be one that will span many years. We've been talking about this process now for almost 10 years, and our relationship predates that. This isn't a one-and-done. You really have to think about how you're developing the infrastructure within your organization to support this type of process.
"It can't just simply be you're there to get a project done. You have to be able to develop authentic relationships based on affinity."
Campbell says he hopes the Squamish Nation's example inspires others "to look at what this means to your territories, what you can do to exercise your authority, your jurisdiction, but also translate that into economic opportunities as well as community needs."
He notes that these types of projects often present procurement opportunities for Indigenous entrepreneurs.
"It's not always just the Nations that have to do the business. It's not our core competency as governments to have to get fully involved in all the business opportunities. We have our development corporations. We have our entrepreneurs. We have JVs, LPs. We have all of these business registries and endorsements to then allow our members to participate in these projects… to allow them to be a part of that legacy that their children will look back and say, 'We weren't ostracized from our lands or marginalized or alienated. We were full participants in creating a greater future for us collectively.'"
Watch the full discussion here.
This article was originally published in Rights & Respect, Issue 2. To purchase a physical copy of the magazine, click here. To purchase tickets to the Indigenous Partnerships Success Showcase, coming June 1-2, 2023, click here.
Follow IPSS on:
Related stories
More about