Stories

BC's outdoor spaces are putting smiles on people's faces
June 8, 2021
With the warm weather finally here, BC's beautiful and abundant trail networks are proving to be an invaluable resource for people itching to get outside. In fact, the first Saturday of June each year is International Trails Day.
Over the years, we've had the opportunity to support a number of passionate community groups in BC that work to protect and maintain these trail networks for everyone's enjoyment. It's given us a chance to learn more about what we can all do to enjoy these areas responsibly, keep both ourselves and the natural environment safe and preserve these areas for future generations.
Enjoying the outdoors while staying safe

Perhaps one of the busiest of these groups is the Outdoor Recreation Council of BC (ORC), an organization that's the provincial voice for at least 50 outdoor recreation groups. In addition to representing the interests of the community to government and industry, they also organize initiatives like the popular BC Rivers Day to help more people enjoy and protect outdoor spaces all across BC.
This year, the ORC launched the inaugural BC Trails Day as a way to celebrate BC's trail system and educate people about responsible recreation. FortisBC proudly supports passionate community groups in BC that work to protect and maintain trail networks for everyone's enjoyment
"With lots of birds around and the snow melted, now is a really good time to start exploring trails, parks and outdoor spaces close to where we live," said Louise Pedersen, executive director, ORC. "Getting outside and hitting local trails is one of the safest things to do, so there's a lot of excitement about exploring what's in our own backyards."
That said, she noted it's important to be careful. With many people venturing to the outdoors for the first time, it's keeping search and rescue crews busy at record levels. Louise explained that it's important to keep in mind the three T's:
train
take the essentials
trip plan
She recommends people check out adventuresmartbc.ca to learn specific ways to be prepared.
To help support outdoor spaces in your community, she also encourages people to organize their own BC Rivers Day event or think about ways to participate in next year's BC Trails Day. The ORC has a number of resources available to help plan a safe and successful event.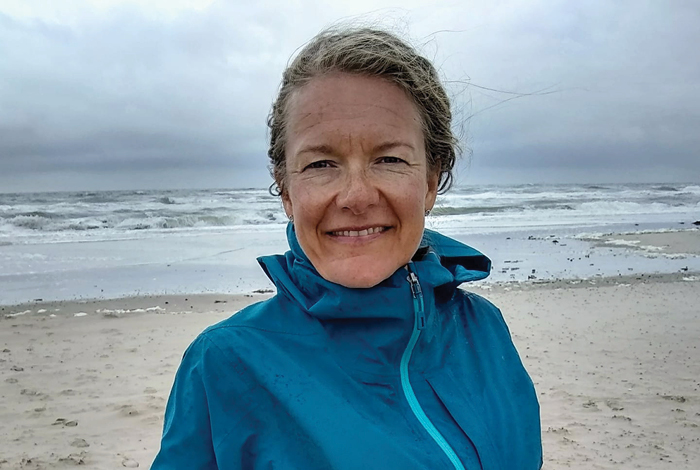 Louise Pedersen, executive director, ORC, is passionate about helping people access outdoor recreation activities, safely and responsibly.
Extra foot traffic is helping to maintain trails

One of our favourite backyards is the mountainous area on the south side of Kelowna. It boasts some of the most extensive hiking and mountain bike trail networks in the Okanagan, including the Okanagan Mountain Provincial Park, Myra-Bellevue Provincial Park and the popular Myra Canyon Trestles. In fact, FortisBC has adopted a trail of its own, the Myra Bailout, a six kilometer trail that climbs 500 meters to join the lower sections of park to the trestles. The entire area is part of the Traditional Territory of the Syilx (Okanagan) peoples.
A local volunteer organization, Friends of South Slope (FOSS), maintains this extensive network of trails. FortisBC is a long-time supporter of FOSS and this year, supplied funds which were allocated towards the tools and equipment needed to maintain the trails.
Brad Wright, a retired FortisBC employee, is an avid volunteer with FOSS, and is grateful for the increase in trail use. FOSS normally hosts a number of volunteer events to help maintain the trails, but when COVID precautions were in place, they were reluctant to put a call out to volunteers or organize large work crews.
That left the work of maintaining the trails to Brad and a core team of volunteers who head out at least three times a week to perform maintenance.
"Good responsible users are key to keeping the trails in good order," said Brad. "Turfing rocks off the trail that have rolled off the hills or removing some windfall trees and shrubs, all help."
His advice to trail users is to remove brush and obstacles from trails rather than going around them which can damage sensitive habitat or cause erosion.
"Sustainable trails are in the right spot and stay in the right spot," said Brad.
Staying on the designated trails is also a way to stay safe and avoid ticks, especially in the spring when these are most active.
FOSS offers a number of ways for people to support the trail network. The infamous 2003 Okanagan Mountain Park Fire hit these areas hard and the increased need to repair water erosion and clear windfall trees remains today. Volunteers are always welcome as are extra funds to hire contractors to help keep up with the work.
Brad notes that the need for trail stewards extends well beyond the Okanagan, and he encourages people from outside the area to look for similar opportunities within their own communities.
"It's a great way to enjoy the outdoors and give back to the community."


Brad Wright, recently retired FortisBC safety and environment manager, volunteers his time to help maintain the extensive trail network on Kelowna's southern slopes.
Passionate volunteers working to preserve areas for future generations
One of the most passionate groups of volunteers we've worked with recently is the Cottonwood Lake Preservation Society, an organization dedicated to preserving a popular outdoor recreation area in the Kootenays.
Cottonwood Lake runs along the west side of Highway 6 between Salmo and Nelson. Every year, the community visits this lake to go fishing, skate on its clear ice, ski the adjacent rail trail and hike or bike through the trails. It's also crucial habitat for grizzlies and home to trees that are 300 to 400 years old. The lake and trail network is located in the Traditional Territories of the Sinixt (Lakes), Sylix (Okanagan), the Ktunaxa and Secwepemc (Shuswap) peoples.
Earlier this year, the Cottonwood Lake Preservation Society successfully completed their efforts to raise $400,000 to purchase 49 hectares of forest above the lake. Blair Weston, community and Indigenous relations manager, arranged for support from FortisBC to close the final gap to reach their fundraising goal.
"This is my backyard and a special place for me and my family to spend time together outdoors," said Blair. "It's incredible what this group has been able to do and it's meant a lot to me to support their efforts."
The Society is now working to transfer the ownership of the land to the Regional District of Central Kootenay, and then to a national land conservancy group, who will manage the land with a conservation mindset. They continue to fund raise for an endowment to manage the land and protect it in perpetuity.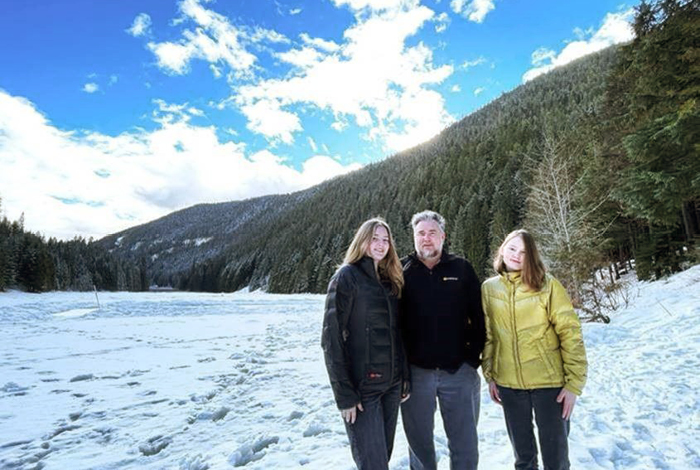 Cottonwood Lake provides a four season playground for Blair Weston and his daughters, Macy and Jordan.
These organizations represent just a few that FortisBC has had the privilege to work with in recent years. During the heightened need to stay within our own communities, outdoor spaces like this played an increasingly important role. We're grateful to the community advocates who put their energy into these worthwhile projects.
Investing in grassroots community projects where we live and work is one of the many ways we're serving our customers and contributing to the well-being of communities. Find out more about our community investment initiatives.
Related stories
More about