Stories

Acknowledging the histories of Indigenous Peoples through art
February 8, 2022
Art is a form of communication that can be used to convey unique histories and stories. Incorporating Indigenous artwork into our facilities is one of the ways we're celebrating Indigenous culture and acknowledging the histories of Indigenous Peoples with both our employees and the public.
Two recent opportunities to commission artwork from local Indigenous artists are serving as a reminder of whose traditional territories we all live and work within, as well as creating a more welcoming and inclusive environment for people from diverse backgrounds.
A colourful and meaningful mural in downtown Salmo
Last year, a FortisBC substation in downtown Salmo underwent significant upgrades to help meet the growing energy needs of customers in the region. To show our appreciation to the Village of Salmo and enhance the community, one of the project managers, D'Arcy Caron, worked with Mayor Diana Lockwood and the town who selected an artist to paint a mural on the nine-foot concrete fence surrounding the facility.
The town council selected Damian John, a Tl'azt'en artist who now resides in Ymir, to design and paint the mural. He is a self-taught artist who specializes in working with acrylic, digital and sculptural mediums. He is highly influenced by his Indigenous heritage and uses his art to explore, educate, delight and hopefully create dialogue about the vast potential this world holds for us.
With many Indigenous people living in and around Salmo, we were looking for a way to integrate their history and culture into the public art around the village and Damian's work tells these stories in a unique and vibrant way.
Diana Lockwood, Mayor of Salmo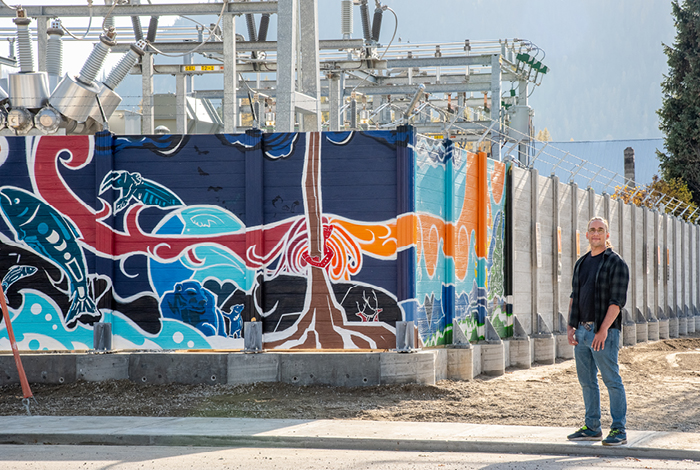 The mural, created by local Tl'azt'en artist Damian John, reflects the histories of Indigenous Peoples in the region and the story of the spiritual connection with nature.
I believe the Salmo mural approaches the idea of Truth and Reconciliation from the perspective of engagement and trust. To be treated with respect by both the Village of Salmo and FortisBC as the professional I am is wonderful and a real testament to some of the nuances of the Reconciliation work being done by businesses and communities in this country.
Damian John, artist
In September, Damian completed a portion of the mural that stretches along six panels of the wall. While the piece isn't complete, you can already see the story taking shape through stunning imagery and vibrant colours. We look forward to seeing Damien's next installation starting this spring that will span across at least four more panels.
Commissioning a piece from a local Indigenous artist
We're committed to building awareness and educating our employees about the histories and experiences of Indigenous Peoples. We had an ideal opportunity to do this when staff moved locations and we undertook renovations at our Willingdon Park office location in Burnaby.
During this time, our facilities, employee communications and customer service teams created a Host Nation Wall to recognize Indigenous histories and art. One of the pieces of art was created by Kelly Cannell, a Coast Salish artist from the Musqueam Nation. The piece, named "Eagle and Salmon," depicts the eagle as one of the most important beings in the art and mythology of the Northwest Coast and the salmon, which is fundamental to all coastal peoples and is a symbol of regeneration, health and life.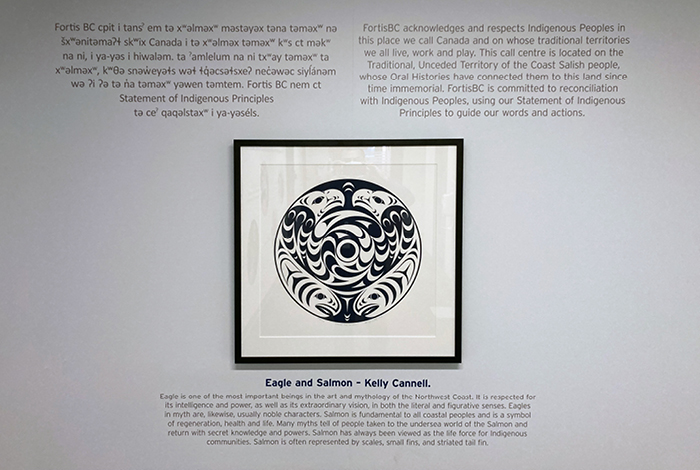 A piece of art named "Eagle and Salmon," created by Coast Salish artist Kelly Cannell, was chosen to hang on one of the walls at our Willingdon Park office in Burnaby, which is pictured above, along with our land acknowledgement we had translated into hən̓q̓əmin̓əm̓ by language speakers.
My inspiration most often comes from my surrounding environment. It's my intention to bring awareness to all living things and this is what brought me to create this cycle of life within the 'Eagle and Salmon' piece.
Kelly Cannell, artist
Also included on the Host Nation Wall is a translation of our land acknowledgment into hən̓q̓əmin̓əm̓, a traditional language of the Coast Salish peoples. Indigenous languages are at risk of extinction so we looked to engage with language speakers in the area who created this translation for us.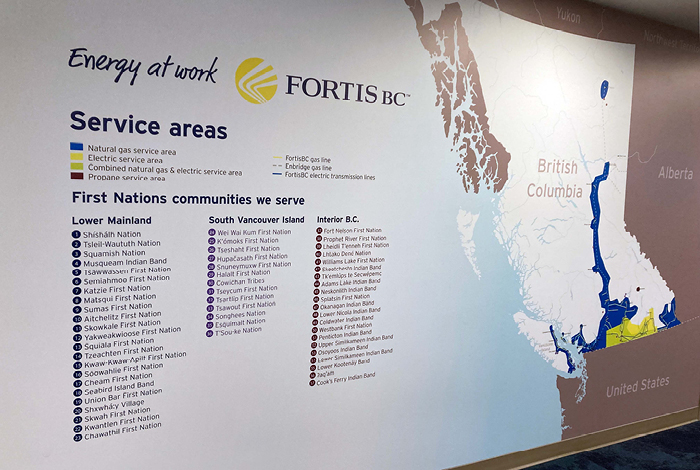 On one of the walls in our Willingdon Park office we have a map of where we provide natural gas and electricity services along with the many First Nations communities we serve in BC.
Continually working towards Reconciliation
As we continue to work towards Reconciliation with Indigenous communities, these pieces of artwork serve as an acknowledgment of whose land we live and work within, and a reminder of the histories and traditions that have come before us.
We continue to seek opportunities to work with Indigenous partners. We're committed to achieving Progressive Aboriginal Relations certification as a partner committed to prosperity in Indigenous communities.
Related stories
More about