Media centre details

FortisBC gas bills reduced due to decreased cost of gas rate October 1
Sep 18, 2023
SURREY, B.C.—September 18, 2023: FortisBC Energy Inc. (FortisBC) has received approval from the British Columbia Utilities Commission (BCUC) to decrease the cost of gas rate for all of its customers from $3.159 per gigajoule (GJ) to $2.230 per GJ as of October 1. For families and businesses that rely on gas to cook their food or to heat their homes, this will mean lower gas bills. The cost of gas rate will be reviewed by the BCUC again in December.
"We understand that energy costs are an important consideration in household budgets and so we strive to deliver gas safely and reliably at the lowest reasonable cost," said Joe Mazza, vice-president, energy supply and resource development at FortisBC. "This decrease will provide customers with some relief on the cost of gas as we head into the colder fall and winter season."
For most residential customers, average monthly bills are expected to decrease by approximately $7, or eight per cent, based on an average household consumption of approximately 90 GJ per year. Under the same cost of gas rate, Fort Nelson customers average monthly bills are expected to decrease by approximately $10, or 10 per cent, based on an average household consumption of approximately 125 GJ per year.
FortisBC acquires natural gas at market-based prices and factors like supply and demand and economic conditions affect the price of natural gas in North America. The cost of gas is flowed through directly to our customers, so customers pay what FortisBC pays for the natural gas itself.
The existing gas system plays an important role in British Columbia's transition to a lower-carbon energy future, as it can deliver low-carbon energy options such as Renewable Natural Gas1 and other renewable and low-carbon gases2 in the future to displace conventional natural gas in the gas system.
For more information about rates and the components that make up a FortisBC gas bill, visit: fortisbc.com/rates.
BACKGROUNDER
Historical data for Mainland & Vancouver Island (including North and South Interior)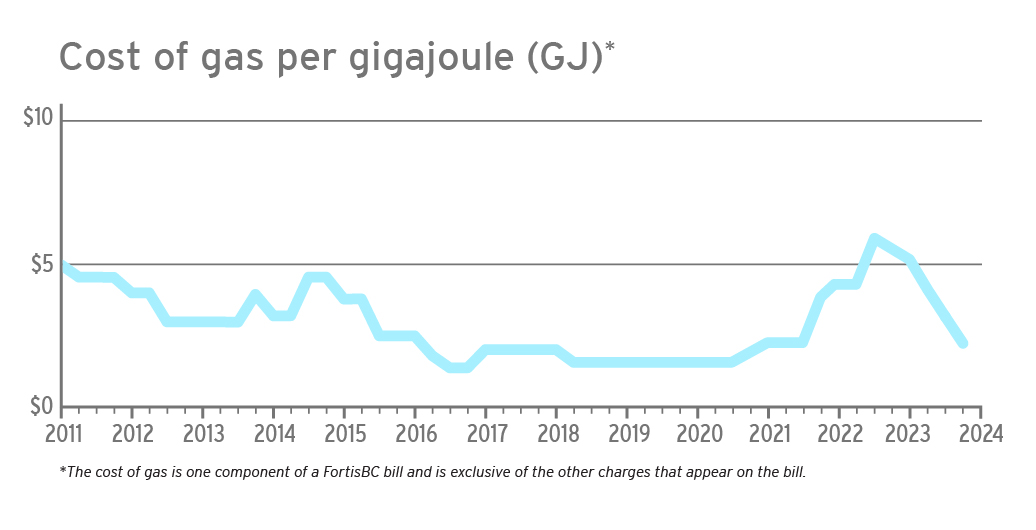 Items on a residential gas customer's bill
Daily or monthly basic charge
The basic charge is a flat fee that partially recovers the fixed costs of our system, whether or not you are using any natural gas, as long as you are connected to the system.
Delivery charge
The delivery charge is based on consumption and pays for the cost of safely and reliably delivering gas through our system to our customer's home or business. This helps cover the costs of maintaining our natural gas distribution system, provides a return to our investors and funds improvements to meet customers' needs. Delivery charges are reviewed by the BCUC annually.
Storage and transport
Storage and transport reflects the prices we pay to other companies to store and transport gas through their pipelines and infrastructure. We do not mark up these costs, and they are reviewed quarterly and set annually by the BCUC.
Cost of gas
Every three months, FortisBC reviews the cost of gas rates with the BCUC to make sure rates passed on to customers cover the cost of the commodity purchased on their behalf. We do not mark up the cost of gas, so customers pay what we pay.
Factors affecting the market price of natural gas in North America include weather, supply and demand and economic conditions.
FortisBC does not mark up the cost of gas, customers pay what we pay.
Other charges and taxes
Other charges and taxes include the BC carbon tax, Clean Energy Levy, goods and services tax and, in some municipalities, a municipal operating fee. These charges are set by various levels of government and collected by FortisBC on their behalf. FortisBC does not gain revenue from these charges.
1Renewable Natural Gas is produced in a different manner than conventional natural gas. It is derived from biogas, which is produced from decomposing organic waste from landfills, agricultural waste and wastewater from treatment facilities. The biogas is captured and cleaned to create Renewable Natural Gas (also called biomethane).

2FortisBC uses the term renewable and low-carbon gas to refer collectively to the low-carbon gases or fuels that the utility can acquire under the Greenhouse Gas Reduction (Clean Energy) Regulation, which are: Renewable Natural Gas (RNG or biomethane), hydrogen, synthesis gas (from wood waste) and lignin. FortisBC's RNG portfolio currently includes only renewable natural gas. Other gases and fuels may be added to the program over time. Depending on their source, all of these gases have differing levels of lifecycle carbon intensity. However, all of these gases are low carbon when compared to the lifecycle carbon intensity of conventional natural gas. The current burner tip carbon intensity of RNG is 0.29gCO2e/MJ and the current RNG portfolio lifecycle emissions are -22gCO2e/MJ. This is below B.C.'s carbon intensity threshold for low-carbon gases of 36.4 gCO2e/MJ set out in the 2021 B.C. Hydrogen Strategy.
Media contact