Your home heating and energy use

Understanding how your home uses energy for heating is the first step to making money-saving changes. Not only can conserving energy lower your bill but it also helps reduce our overall greenhouse gas (GHG) emissions in support of our climate action goals.
Home heating: this energy user could be eating up half of your bill
If you use gas or electricity, more than 60 per cent of the energy used goes toward heating your home. An additional 17 per cent is used for heating water.1
It can take even more energy to keep your home at a comfortable temperature with cold winter temperatures.2 During cold snaps, we tend to turn up the thermostat and run our heating appliances more often and for longer periods of time.3 With more energy being used, this can result in higher winter energy bills.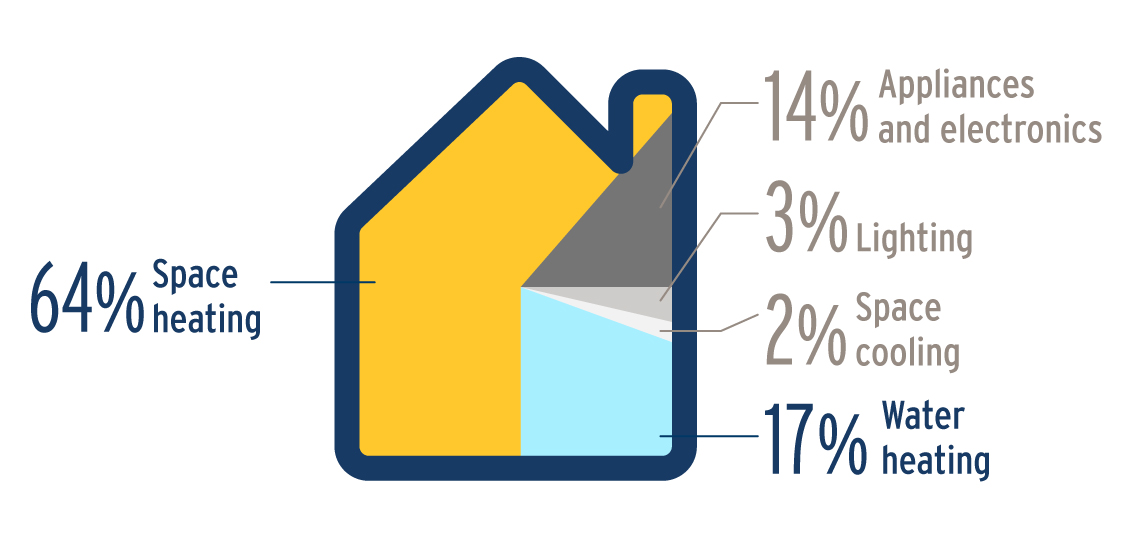 Average energy use at home1
Five ways to reduce your energy use
The good news is there are ways to reduce your energy use, such as:
Programmable thermostat – using this type of thermostat and setting it correctly can save up to 15 per cent on your home heating bill.4
Draftproofing – gaps, cracks and leaks around doors or windows lead to heat loss – and heat loss is money loss when it comes to energy use.5
Hot water pipe insulation – insulate accessible water pipes located in unheated areas, such as basements and crawl spaces, with foam or rubber pipe insulation to help keep the water hot longer.
Faucet aerators – if your faucets aren't already water-efficient models, you can install faucet aerators on existing taps to help save water and energy, without any noticeable difference in flow.
Air filter – like a dryer lint screen, a furnace's air filter clogs over time. A dirty filter can make your heating system work harder, which means extra energy costs. Check your filter at least every three months and replace or clean it regularly.6
See more energy-saving tips for your home
Are you using more energy than you think?
Understanding when, how and how much energy you use will help you take control and manage your bills better. Here are some tips and online tools to help you during winter and year-round:
Save more with rebates
If it's time to upgrade your space and/or water heating equipment to high-efficiency equipment, or increase the insulation in your attic, crawlspace or walls, we've got rebates on high-efficiency equipment and products to help make the upgrades more affordable.
Free energy saving programs
We also offer free energy-saving programs specifically for income-qualified customers. Energy Saving Kits contain easy-to-install products to help customers reduce energy use and lower their energy bills. Eligible customers can also participate in a free home energy evaluation through the Energy Conservation Assistance Program.
We're here to help
Concerned about paying your gas or electricity bill? Together, we'll find solutions that can help. For example, you could switch to monthly billing or sign up for our Equal Payment Plan, which offers fixed monthly payments that avoid seasonal highs and lows. Contact us to learn more.
Electricity customers call:

1-866-436-7847

, Monday-Friday, 7 a.m. to 7 p.m.
Gas customers call:

1-888-224-2710

, Monday-Friday, 7 a.m. to 8 p.m.