School programs

We take an active role in educating British Columbia's next generation about energy solutions, safety and conservation as part of their daily lives. Delivered together with teachers, FortisBC employee volunteers and the BC Lions, our classroom-ready programs help teach students from kindergarten to high school to be smart about energy.
Energy Leaders
Energy Leaders free lesson plans for kindergarten to grade 12 tell the BC energy story and help students develop energy literacy: where natural gas and electricity comes from, how to conserve it and how to be safe around it.
Developed by teachers, for teachers, lessons touch on social studies, science and language arts and align with BC's new curriculum:
inquiry based
hands-on learning
Indigenous Peoples' principles of learning
core competencies
teaching strategies and routines
Distance learning lesson plans
To support both parents and teachers in the new home-based, remote learning environment we've adapted our free ready-to-use lesson plans for grades one to 12.
New! Distance learning lesson plans and select regular lesson plan materials for grades one to 10 are now also available in French. French-translated lessons are coming soon for grades 11 and 12.
Ready to get started?
Find out more about Energy Leaders lessons today.
Energy is Awesome!
Our Energy is Awesome presentation is suitable for kindergarten to grade 7 students. FortisBC employees deliver the presentation at your school or community group and talk about natural gas and electricity safety and conservation. There's no cost, and activity books and other educational material are included.
Request an Energy is Awesome presentation
To learn more about our safety programs for kids and request a free presentation, complete the online form.
Energy Champions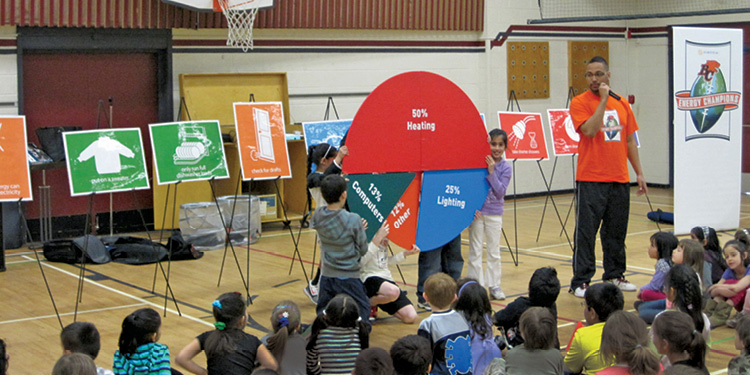 Energy Champions is presented by FortisBC and the BC Lions to get kids excited about saving energy and share the importance of environmental responsibility. Each year, BC Lions football players visit elementary schools throughout the province for an interactive presentation that shows students how they can be an Energy Champion too.
Request an Energy Champions presentation
If you'd like a BC Lions player to visit your school, contact Tyler Gammon at tgammon@bclions.com or visit the BC Lions website.