Protecting the environment

We're working with customers, communities, Indigenous Peoples and all levels of government to find innovative ways to protect the environment and lower greenhouse gas (GHG) emissions as we work toward achieving the province's climate action goals. We're committed to investing in environmental initiatives close to home and are bringing decades of experience developing lower carbon energy solutions to ensure we're helping BC progress towards a more sustainable future.
Our lower carbon pathway
British Columbians have a vested interest in finding solutions to combat climate change. We developed our Clean Growth Pathway to 2050 to outline the actions we're taking to help BC meet its climate action targets. By adopting a more flexible approach that takes advantage of the strengths of different types of energy, we can help reduce emissions affordably and effectively while continuing to meet peak energy demands.1 Addressing climate change is a complex issue and moving solutions forward that take advantage of both the province's natural gas and electricity infrastructure gives us a practical advantage.2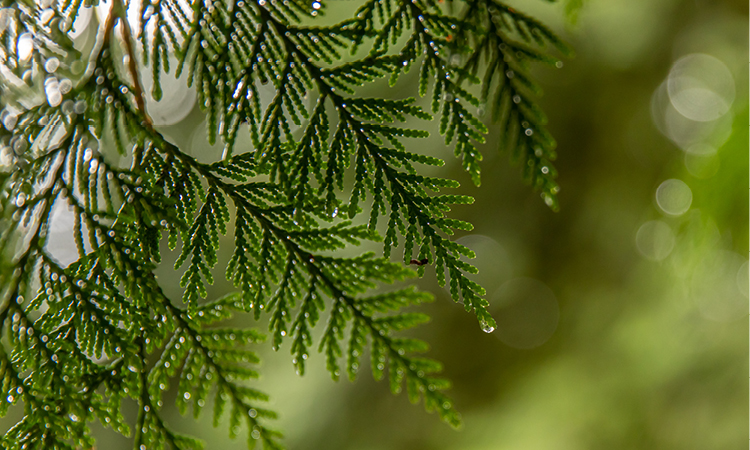 Our natural gas and electricity systems will play critical roles as we work toward our 30BY30 target–a target to reduce our customers' emissions by 30 per cent by 20303–and beyond to achieve the province's climate action goals. We commissioned a report by Guidehouse, a leading energy and environmental consultancy, to help us better understand the pathways we can take to work towards this target and a lower carbon energy future. The report, published in August 2020, showed how we can achieve the province's goal of an 80 per cent GHG emissions reduction by 2050 through a diversified pathway using the province's gas and electricity infrastructures together for $100 billion4 less than the cost of widespread electrification.5
By thinking ahead about the actions we can take, beyond reaching our 30BY30 target, we can help the province reach its goal of an 80 per cent GHG reduction by 2050. This includes continuing to convert heavy and medium duty vehicles to natural gas from diesel, providing more energy efficiency options for our customers and increasing the amount of renewable gas in our system to eventually make up close to three quarters of our total gas supply.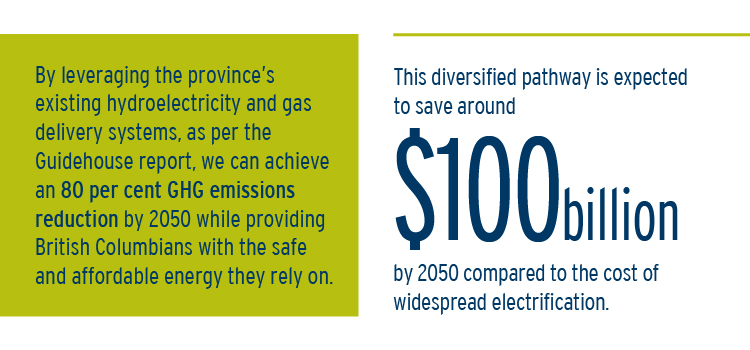 Growing our supply of Renewable Natural Gas
One of the ways we're working to lower the carbon intensity of our natural gas system is by growing our Renewable Natural Gas6 (RNG) supply. Although we were in the middle of a global pandemic, 2020 was an historic year for us as we secured 13 new contracts with RNG suppliers. When these new suppliers come online, roughly five per cent of our natural gas supply will come from renewable, carbon-neutral sources, carbon-neutral sources. One of the most notable and innovative projects approved in 2020 was an agreement with REN Energy International Corporation (REN Energy) to purchase RNG produced from wood waste created by forestry operations and sawmills. Located in Fruitvale, BC, it will be the first commercial facility in North America to use wood waste as the organic material to produce RNG, creating new opportunities to reduce GHG emissions in BC's forestry sector.
In February 2020, we made an agreement with the Capital Regional District (CRD) on Vancouver Island to purchase RNG generated from the Hartland Landfill. This partnership was announced in April 2020 and will be our first RNG producer on Vancouver Island, providing carbon-neutral gas to residents of the Greater Victoria area. If approved by the British Columbia Utilities Commission (BCUC), the landfill is expected to reduce the region's GHG emissions by about 264,000 tonnes of carbon dioxide equivalent over the 25-year project life, which is the equivalent energy use to removing more than 2,200 cars from the road each year for 25 years. At the end of 2020, we were finalizing the agreement and we plan on submitting the agreement to the BCUC in 2021. If approved, the CRD will move forward with building a facility that will purify the gas produced at the landfill and we expect to start purchasing RNG from this facility later in 2022.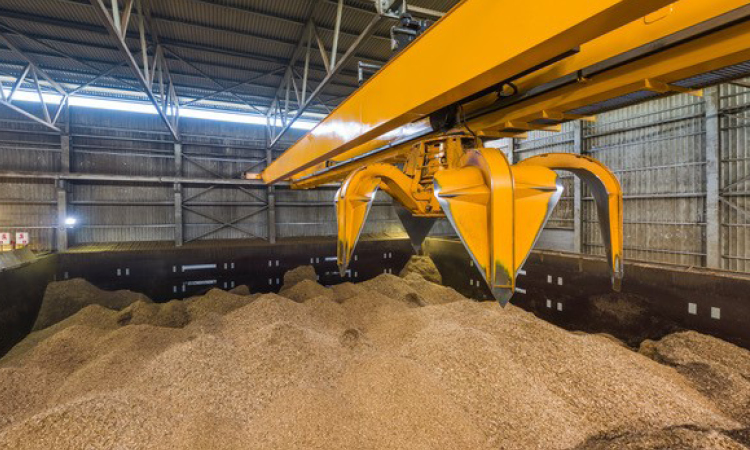 The REN Energy facility is expected to be in service later in 2022 and, to date, it is the largest contract for RNG in the province. RNG blends seamlessly into our existing natural gas system and it effectively reduces GHG emissions because it does not contribute any net carbon dioxide into the atmosphere.7
Another significant milestone on our way to expanding our renewable gas supply was the approval from the BCUC to purchase RNG from suppliers outside of British Columbia for the first time. In 2020, we signed agreements to purchase RNG from suppliers in Alberta and Ontario and we received the first out-of-province RNG from Ontario. This will allow us to continue to work towards our 30BY30 target while supporting the production of RNG in BC and across Canada. Additionally, our commitment to the growth of the renewable gas industry supports the federal government's carbon reduction goals and the achievement of the United Nations Sustainable Development Goals.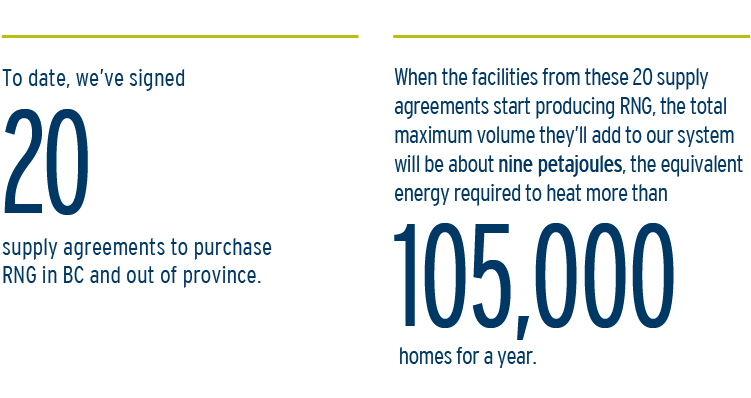 As we look ahead, we expect to receive RNG from Alberta later in 2021. We will also continue to seek new partnerships to grow our RNG supply and we will see more RNG supply come online from some of our earlier agreements. This includes seeing RNG produced from wastewater at a facility on Lulu Island in Richmond–another first of its kind in BC.
Introducing the Clean Growth Innovation Fund
Working towards a lower carbon energy future means investing in projects to help decarbonize our natural gas supply and accelerate climate action. In summer 2020, a significant step was made with the BCUC's approval to implement our Clean Growth Innovation Fund. Through this fund, we will commit approximately $5 million per year until 2024 to support innovative emissions reduction projects. We will collaborate with partners in industry and government to explore technologies such as renewable gases, carbon and methane capture, fuel cells and remote power technologies.
One of the first projects we invested in through the fund was to test ways we can use hydrogen in our distribution network. Hydrogen is among the most abundant elements on Earth and carries huge energy potential yet doesn't create any carbon dioxide emissions when used as a fuel. This research will be performed by the School of Engineering at the University of British Columbia's Okanagan Campus (UBCO) and will help us better understand how to begin safely blending hydrogen into our existing distribution system. We expect the study to start in mid-2021.
Hydrogen is an abundant element and a clean energy carrier, and will be a step forward in our efforts on climate action. And in order to leverage the potential of hydrogen we need to partner with leading experts in the field. We're thrilled to have the minds at UBCO on board, helping us unlock this opportunity for what will be a giant step forward in advancing a lower carbon future.
Doug Slater, vice-president of external and Indigenous relations with FortisBC
Investing in green projects
Our Clean Growth Innovation Fund wasn't the only way we invested in projects to help us work towards our climate action goals. In July, we offered our first Green Bond–a specialized investment to support projects and activities that promote environmental sustainability–and became the first natural gas provider to issue this type of environmental investment. The bond was issued at $200 million and distributed across 56 investors. We have since allocated $199 million of the net proceeds to Green Bond projects across the five eligible project categories: renewable energy, RNG, energy efficiency, pollution prevention and clean transportation.
By issuing Green Bonds, we're spurring greater investment in projects that deliver environmental benefits. We will be releasing our first Green Bond impact report later in 2021 that will include details about the funded projects.
Driving forward with more electric vehicle charging stations
With more and more electric vehicles (EV) driving around BC, we continue to add to the province's EV charging network and opened 17 new stations across the Southern Interior in 2020. Ensuring EV drivers have access to highway-grade charging infrastructure is important to supporting EV adoption across our electricity service area and to meeting our 30BY30 target.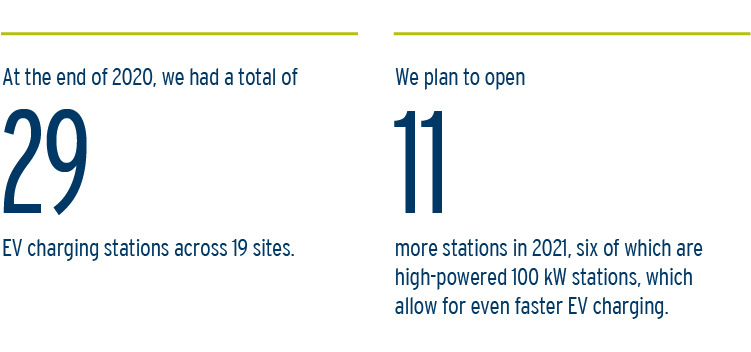 Adapting to the EV market, we're planning to open more high-powered 100 kW charging stations across the Southern Interior. While older EVs on the road today can only charge at 50 kW, next generation EVs can utilize these higher power charging stations. These stations can charge more quickly than the 50 kW stations and will meet the growing demand for greater EV charging capacity in the province.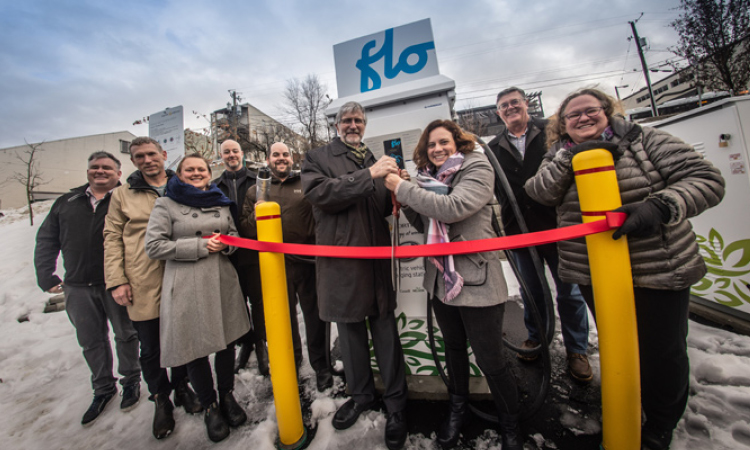 At the beginning of 2020, we celebrated with the City of Nelson as the first publicly available direct current fast-charging EV station opened in Nelson. The station is located at the Nelson and District Community Complex and provides a convenient, faster charging option and makes Nelson more accessible for both local and out-of-town EV drivers.
Photo was taken prior to COVID-19 physical distancing restrictions.
Over the years, we've found opportunities to develop and strengthen our relationship with the Osoyoos Indian Band and last year we achieved another significant milestone together. In July, we opened the first publicly available EV charging stations in a First Nation community in BC. Both stations are located on-reserve land with one in Oliver and the other in Osoyoos. The stations are strategically placed to give EV drivers a place to charge while travelling through the region, reducing range anxiety and building out a charging network to encourage more British Columbians to make the switch to an EV. We also plan on adding another charging station to our Osoyoos location in 2021.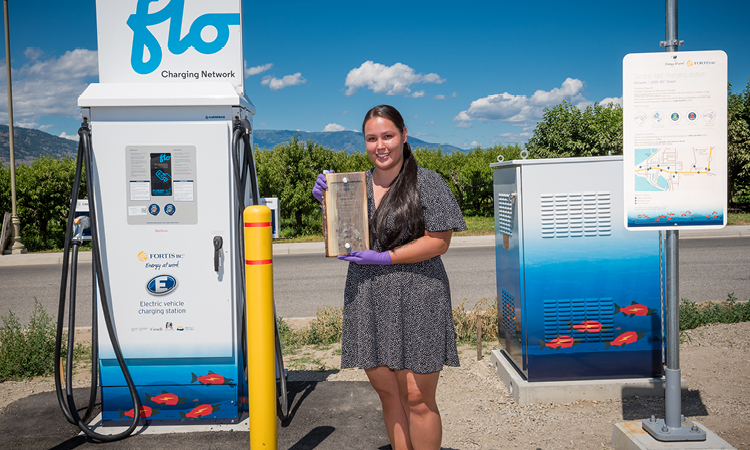 The unique artwork on the Osoyoos and Oliver EV stations was designed by Taylor, an Osoyoos Indian Band Youth Council member, and she was recognized for her work at our event, following COVID-19 guidelines, in July 2020.
Fuelling up with natural gas
Advancing natural gas for transportation is another way we're forming partnerships with industry leaders to advance toward a lower carbon energy future. The transportation industry accounts for about 41 per cent of provincial GHG emissions8 so we're working with fleet operators to transition their medium and heavy duty vehicles to compressed natural gas (CNG) and liquefied natural gas (LNG), helping them reduce emissions and fuel costs.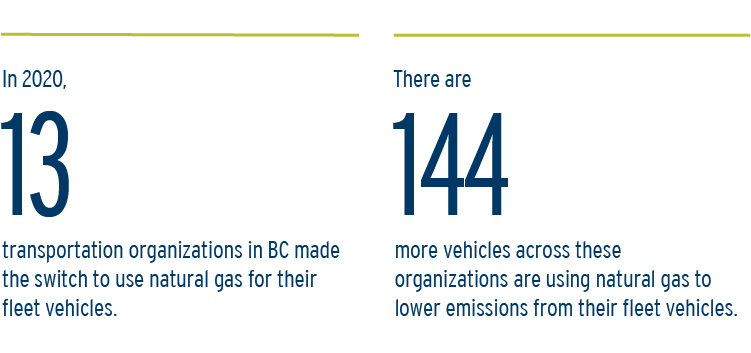 BC Transit is one of the organizations we continue to work with to expand the use of CNG for transportation. In 2020, they added 78 more CNG buses to their fleet, showing their dedication year-over-year to transition to lower carbon fuels and decrease their emissions. Using CNG can reduce GHG emissions by up to 30 per cent9 and save up to 45 per cent in fuel costs compared to gasoline or diesel.10 We also offer incentives to help fleet operators make the switch to CNG and LNG powered vehicles and last year we provided almost $2.3 million in vehicle capital incentives to customers.
There are more than 900 natural gas vehicles on BC roads today, and natural gas, from compressed and liquefied to renewable gas, can make meaningful emissions reductions immediately.
Sarah Smith, director of natural gas for transportation, regional LNG and renewable
gases with FortisBC
Using LNG to reduce emissions
To help us advance toward our 30BY30 target, we're supporting the growth of LNG as a cleaner fuel for domestic and international marine vessels. To better understand the environmental benefits of LNG from our Tilbury facility in Delta, we commissioned a study in 2020 by an environmental consultant, Sphera. Their lifecycle GHG analysis found that, on average, LNG from Tilbury is produced with nearly 30 per cent less carbon intensity than the global LNG supply. These results demonstrate the value of Tilbury LNG to help us reduce local and global emissions compared to LNG produced in other parts of the world and supports the achievement of our 30BY30 target.
Looking ahead, we see the potential for even greater advantages with LNG from Tilbury as we align our efforts with the provincial government's climate action plan, CleanBC. Within this plan, there are measures to increase electrification in upstream gas production that could lead to even greater reductions in the carbon intensity of LNG from Tilbury. When these measures are fully implemented, LNG from Tilbury could be produced and delivered to vessels with up to 50 per cent lower lifecycle carbon intensity than the global average LNG supply.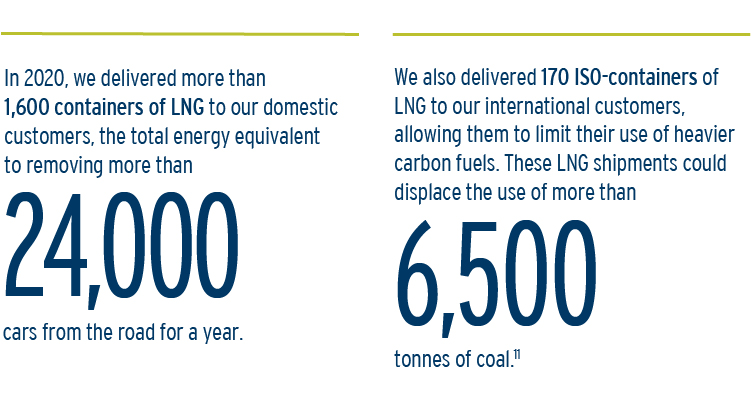 By investing in Tilbury LNG, we look to make Vancouver a hub for cleaner marine fuel, which also creates jobs and bolsters the local economy. Ships that use LNG from our Tilbury facility, rather than petroleum-based fuels, can reduce GHG emissions by up to 27 per cent, which is about six to 13 percent higher than emissions reductions achieved by using global average LNG.12 In January 2020, the International Maritime Organization implemented new reduced limits on sulphur in fuel oil, setting stricter guidelines for emissions from shipping vessels to help improve air quality and protect the environment. This is an opportunity for marine vessels to transition to LNG as their main source of fuel because particulate matter could be reduced by up to 99 per cent and sulphur oxides could be reduced by almost 100 per cent using LNG compared to conventional marine fuels.13
Protecting aquatic resources
We're taking great steps forward by partnering with industry as we work toward a lower carbon energy future and every year we pay close attention to how we can support environmental initiatives close to home.
We own and operate four hydroelectric generating plants in the Kootenays and we also hold the water licence for Kootenay Lake, so it's important for us to understand how our operations affect the aquatic resources around us. In September 2020, our aquatics biologist, James Baxter, worked with the BC Ministry of Forests, Lands, Natural Resource Operations and Rural Development in Nelson to assist with their studies of White sturgeon in the area.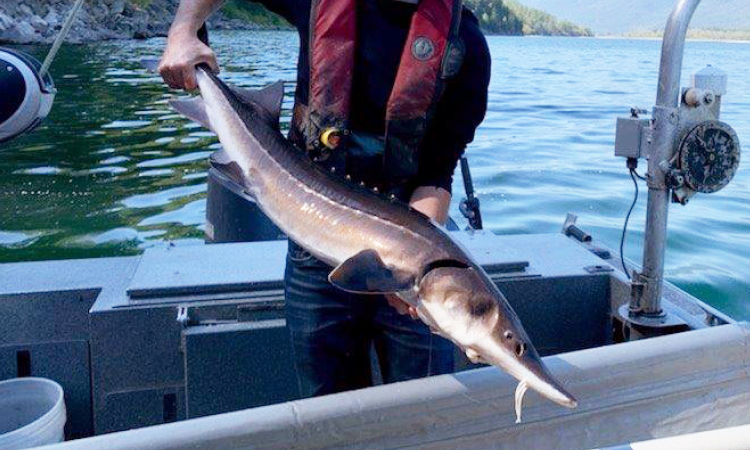 Swimming through BC waters, White sturgeon are a 175-million-year-old species that is at risk of extinction. We helped fund the purchase of sonic tags that were implanted into White sturgeon and a receiver to track their movements further down the West Arm of Kootenay Lake. This will help us understand how our operations influence the movement patterns of White sturgeon so we can make informed decisions on how to help increase their population.
In November, James and one of our community relations managers, Blair Weston, recorded a podcast episode with the Friends of Kootenay Lake. One of the topics they discussed was our work with shore-spawning Kokanee salmon in Kootenay Lake. In past years we've lowered lake levels in the fall during peak years of spawning to encourage the species to spawn at deeper lake elevations to protect as many of the redds as possible from being dewatered or left uncovered where they can dry out due to receding water in the spring.
In 2021, we will start to work on a three year research project to study the migration patterns and habitat use of Rainbow trout in the lower Kootenay River. By performing studies to learn more about the aquatic species around our hydroelectric generating plants, we can make informed decisions on how to protect the species and their habitats.
1 Pathways for British Columbia to achieve its GHG reduction goals; Guidehouse, 2020.

2 Pathways for British Columbia to achieve its GHG reduction goals; Guidehouse, 2020.

3 Reduce customers' GHG emissions by 30 per cent relative to 2007 levels.

4 The societal value of achieving the diversified pathway is expected to be in excess of $100 billion higher than the electrification pathway.

5 Pathways for British Columbia to achieve its GHG reduction goals; Guidehouse, 2020–page 24-25.

6 RNG is produced in a different manner than conventional natural gas. It is derived from biogas, which is produced from decomposing organic waste from landfills, agricultural waste, wood waste and wastewater from treatment facilities. The biogas is captured and cleaned to create carbon neutral Renewable Natural Gas, also called biomethane.

7 FortisBC's RNG has been designated carbon neutral in BC by Offsetters. Source: Ministry of Finance, Tax Bulletin, Natural Gas and Biomethane Sellers, Carbon Tax Act–page 4.

8 Pathways for British Columbia to achieve its GHG reduction goals; Guidehouse, 2020–page 11.

9 Source: Northwest Gas Association, Natural gas facts–page 12.

10 Fuel costs based on FortisBC rates as of October 2020, and average cost of diesel per litre in BC as of October 2020.

11 Calculated using the energy density of coal of 25 GJ/tonne and a one-year timeframe.

12 Depending on the engine type and comparing the same engine types. Source: Life Cycle GHG Emissions of the LNG Supply at the Port of Vancouver; Sphera (former thinkstep); 2020.

13 Depending on the engine type. Source: Analysis highlights environmental benefits of Tilbury LNG as a marine fuel; FortisBC; 2020.