Protecting the environment

We share our customers' desire for a cleaner energy future and we're committed to working with them to achieve this goal. With more than a decade of experience exploring lower carbon energy solutions to help reduce greenhouse gas (GHG) emissions in homes, businesses and industry, we will continue to collaborate with customers, communities, all levels of government, businesses and Indigenous Peoples to find innovative ways to help protect the environment and meet the province's climate action goals. We're committed to investing in environmental initiatives close to home, to ensure we're helping BC progress toward a more sustainable future.
Introducing our 30BY30 target
Understanding that environmental action can't wait, in 2019 we announced our first-ever emissions reduction goal – our 30BY30 target. This is an ambitious target to reduce our customers' GHG emissions by 30 per cent overall by 2030. Our Clean Growth Pathway to 2050, which was developed in 2018 as part of the consultation surrounding the province's CleanBC Strategy, sets out four key areas to help us achieve substantial GHG emissions reductions. These four areas are an essential part of our 30BY30 target, allowing us to track our progress toward transforming BC's energy future – in an affordable way:
supporting the growth of renewable gas in BC by boosting Renewable Natural Gas1 (RNG) supply and exploring the potential use of hydrogen and syngas2 as low carbon alternatives
positioning BC as a vital domestic and international liquefied natural gas (LNG) provider to lower local and global GHG emissions3
dramatically increasing investment in energy efficiency for homes, businesses and industry partners as well as developing innovative energy projects in BC communities
investing in the province's electric vehicle (EV) charging network and supporting the growth of natural gas-powered medium and heavy duty vehicles
Although this is an ambitious target, we have long-standing relationships with government and industry that will help us develop and implement alternative ways we can reach a lower carbon energy future for BC. To meet this target and BC's climate action goals, we recognize our natural gas and electricity infrastructures will play key roles as they reach across the province. Integrating new technology and renewable energy sources into this infrastructure will help us keep energy costs affordable for our customers, while we contribute towards global emissions reductions.
Our growing supply of Renewable Natural Gas
Expanding the supply of carbon neutral RNG, which is made from organic waste, is a key part of our 30BY30 target. Building on the success of our existing projects, in 2019 the British Columbia Utilities Commission (BCUC) approved the construction of an RNG facility at the Vancouver Landfill in Delta, which was a significant milestone for both FortisBC and our partners at the City of Vancouver. Once operational in 2022, the facility is anticipated to produce about 250,000 gigajoules (GJ) of RNG annually, equivalent to all the natural gas needs for more than 2,800 homes for one year.

We're working with municipalities and organizations to create more opportunities to increase the number of RNG suppliers and these mutually beneficial partnerships will help us work toward BC's climate action goals. In 2019, we signed nine new agreements, two of which were submitted to the BCUC with the remaining applications being submitted in 2020. Notably, we came to an agreement with the Regional District of Fraser-Fort George to purchase landfill gas from the Foothills Boulevard Regional Landfill in Prince George. If approved, the landfill would be the first northern BC RNG project and would produce about 70,000 to 100,000 GJ of RNG annually, equivalent to all the natural gas needs for more than 1,100 homes.
Charging up with more electric vehicle stations
As EVs are becoming more common on BC roads, we continue to add to the province's EV charging network, building 12 new stations across the Southern Interior in 2019. Ensuring EV drivers have access to highway-grade charging infrastructure is important to supporting EV adoption across our electricity service area and to meet our 30BY30 target. Taking a turn in the right direction, drivers now have access to two direct current fast-charging (DCFC) stations at the Kelowna International Airport, our first DC fast chargers available at a public location in the city.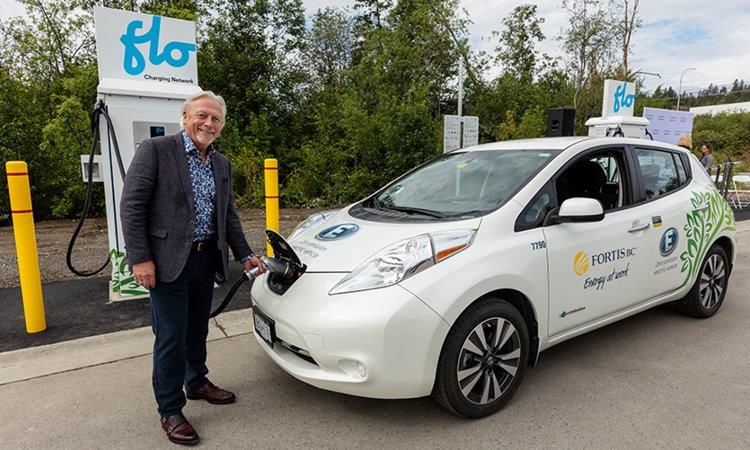 Douglas Stout, vice president of market development and external relations at FortisBC, is charging up at the grand opening of the DCFC stations at the Kelowna International Airport.
Fuelling up with natural gas
While electric vehicles provide a cleaner alternative for personal vehicles, compressed natural gas (CNG) offers an affordable and effective way for medium and heavy duty vehicle fleet operators to cut their emissions. More than 850 vehicles have made the switch to natural gas, helping fleet operators decrease GHG emissions by up to 30 per cent5 and save up to 40 per cent in fuel costs compared to gasoline or diesel.6
Three months after we opened the first public DCFC stations in Kelowna, we opened the first public access CNG fuelling station in the area. This station gives owners of natural gas-powered vehicles the ability to conveniently refuel 24 hours a day.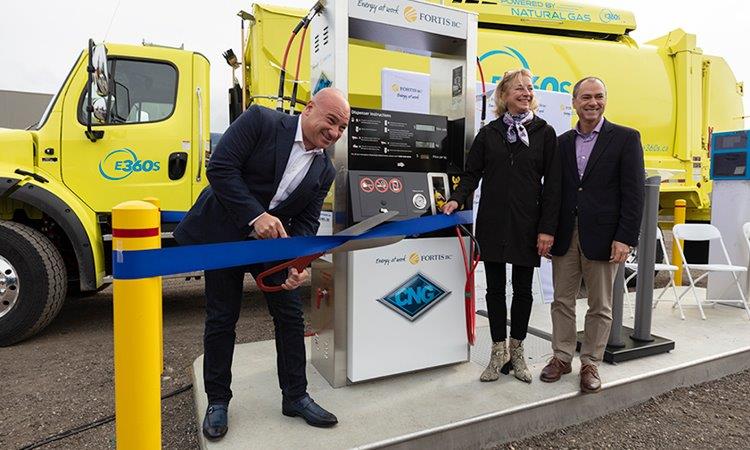 Environmental 360 Solutions (E360S) and FortisBC share the same goals of protecting the environment and reducing GHG emissions. This partnership showed how when we work together, we can support others in their emissions reduction goals.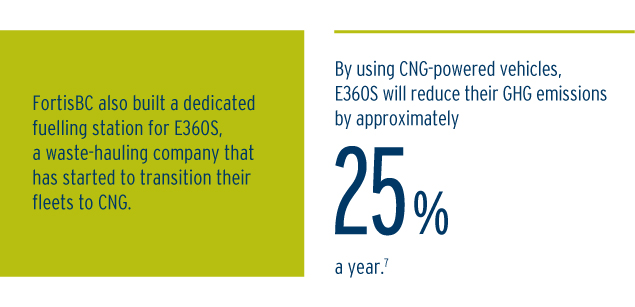 Even as we bring on new CNG customers, we continue to work with our existing partners who are transitioning more of their fleets to CNG. In March 2019, BC Transit announced they were adding 42 new CNG-powered buses to their fleets across the province including in Whistler, Nanaimo and Kamloops.
While using conventional CNG is one alternative to gasoline or diesel, RNG is also being used to power vehicles across the province. In 2019, the Ministry of Energy, Mines and Petroleum Resources approved RNG to be included in the province's Low Carbon Fuel Standard (LCFS) as another way to reduce emissions in the transportation sector. Customers who use RNG for their vehicles pay a small premium, but now that RNG is included in the LCFS, these customers will receive higher emissions credits, making the overall price more affordable.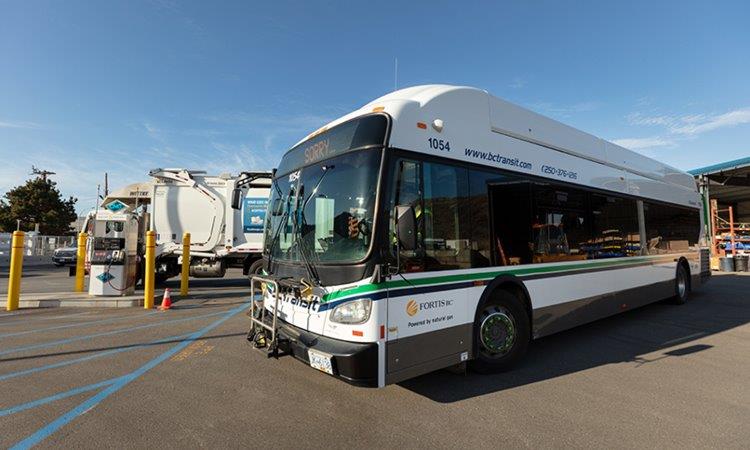 We provided more than $345,000 in incentives to BC Transit, helping offset part of the cost of transitioning to cleaner CNG-powered buses from diesel.
Only a day after this announcement, Translink set the bar for other transit providers by being the first transit authority to use RNG in their fleets. In partnership with FortisBC, Translink announced they would move their entire CNG fleet to 100 per cent RNG by 2024. Over the five-year period, Translink will reduce their annual GHG emissions by approximately 50,000 tonnes from using RNG, the equivalent of removing 10,000 cars from the road for one year. This commitment is a positive step for Translink as they work toward the goal of using 100 per cent renewable energy by 2050. It also takes us a step closer to reaching our 30BY30 target.
Using liquefied natural gas to reduce emissions in the marine sector
As a pathway to reach our 30BY30 target, increasing accessibility to LNG to meet the needs of the marine sector is key to lowering global GHG emissions. Our LNG plants, based in Delta and Ladysmith, are the only facilities to produce LNG along the North American West Coast. Since 2016, we've completed more than 2,000 marine bunkering events with our local marine customers, BC Ferries and Seaspan. Marine bunkering is a method of refuelling where a truck safely delivers LNG onboard a vessel, eliminating the need for additional refuelling infrastructure. While our on-board bunkering system has set Vancouver as a local LNG hub, we have a unique opportunity to become a global LNG hub for international shipping.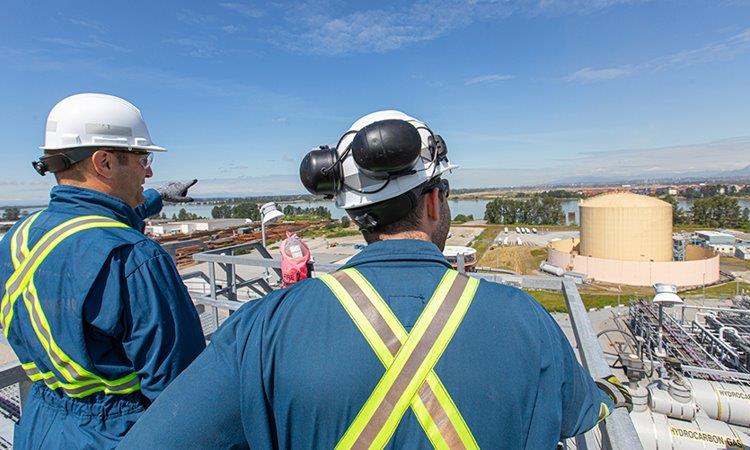 We completed the first phase of our Tilbury LNG Expansion project in May 2019 where we added a new storage tank and additional LNG production equipment to meet the growing need for LNG provincially and globally.
To meet increasingly strict emissions guidelines in the marine sector, many shipping organizations are exploring switching their vessels to LNG from traditional marine fuels. To help encourage this transition, the BC government announced support to establish the first ship-to-ship LNG marine refuelling service on the west coast of North America in partnership with the Vancouver Fraser Port Authority and FortisBC. This will give international vessels using LNG a new fuelling hub in the Pacific Northwest, providing them with a great incentive to move to a lower carbon energy and providing a tremendous economic opportunity for the province. Switching to LNG from traditional marine fuel reduces lifecycle GHG emissions by up to 27 per cent8 and fuelling costs by more than half.9
With BC Ferries and Seaspan converting diesel-powered ferries to LNG over the past three years through a partnership with FortisBC, we're starting to see significant reductions in GHG emissions from the marine sector. In 2019, we saw a reduction of 34,200 tonnes of carbon dioxide equivalent (tCO2e) compared to 26,000 tCO2e in 2017 and 2018 combined. This 2019 reduction equates to decreasing CO2 emissions equivalent to removing more than 7,000 cars from the road for a year. This demonstrates how LNG can effectively decrease emissions in the marine sector and help move BC to a lower carbon energy future.
With more than 50 years of experience in LNG production and another three in providing LNG for marine use, we were welcomed into the SEA\LNG coalition in 2019. SEA\LNG is a multi-industry coalition based in the United Kingdom, promoting the global adoption of LNG as a marine fuel. Partnering with other LNG experts gives us new and valuable perspectives as we continue to support the expansion of the LNG industry in the province.
Shipping liquefied natural gas internationally
Our international partnerships extend beyond the United Kingdom as we entered into Canada's first ongoing LNG export contract with Top Speed Energy of China. Under the terms of the two year agreement, we will produce 53,000 tonnes of LNG a year from our Tilbury LNG facility to be shipped to China via ISO container – self-contained units that can be easily moved and used anywhere. The amount of LNG exported through this contract is equivalent to the energy needed to heat more than 30,000 average BC homes for a year.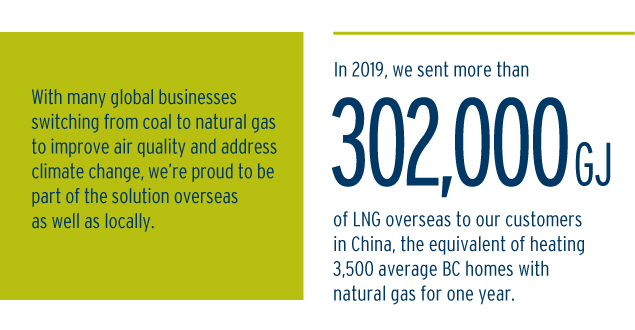 Investing in environmental initiatives close to home
We're taking great steps forward by partnering with industry as we work toward a lower carbon energy future and every year we pay close attention to how we can help support environmental initiatives close to home.
In June, we provided $50,000 in funding to the Nature Conservancy of Canada (NCC), a non-profit organization that protects natural areas across Canada, to help with the largest private land conservation project in Canada – the enlargement of the Darkwoods Conservation Area in the Central Kootenays.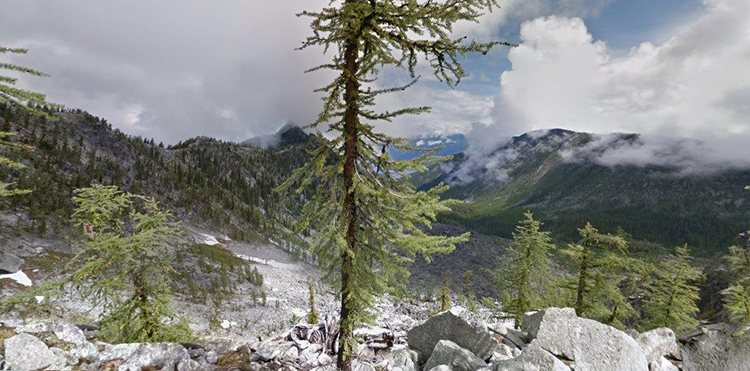 The acquisition of 19,500 acres of rare inland temperate rainforest in the South Selkirk Mountains protects the habitat of close to 40 confirmed at risk species such as the grizzly bear, wolverine, mountain caribou and whitebark pine. Take a closer look at this rainforest.
1 RNG is produced in a different manner than conventional natural gas. It is derived from biogas, which is produced from decomposing organic waste from landfills, agricultural waste and wastewater from treatment facilities. The biogas is captured and cleaned to create carbon neutral Renewable Natural Gas, also called biomethane.

2 A form of gas derived from waste biomass, wood and wood waste biomass that does not fully meet pipeline specifications, but it may be burned in industrial settings to reduce natural gas use.

3 Source: Tilbury LNG exports can reduce lifecycle GHGs in China: study

4 FortisBC's RNG has been designated carbon neutral in BC by Offsetters. Source: Ministry of Finance, Tax Bulletin, Natural Gas and Biomethane Sellers, Carbon Tax Act – page 4.

5 Source: Northwest Gas Association, Natural gas facts – page 12.

6 Fuel costs based on FortisBC rates as of March 2018, and average cost of diesel per litre in BC as of March 2018.

7 Based on the minimum contracted amount of fuel from the station. Source: FortisBC news release.

8 Source: Lifecycle GHG emissions of the LNG supply at the Port of Vancouver.

9 Source: Liquefied Natural Gas: A Marine Fuel for Canada's West Coast – page 22.