Get natural gas, and save

Looking for lower energy bills? Natural gas is less than a third of the cost of electric baseboards or heating oil, and half the cost of using an electric heat pump to heat your home:
Annual space heating costs for Vancouver Island and Sunshine Coast1
Ready to save?
If you are experiencing issues with Internet Explorer, please try a different browser or call 1-888-224-2710 to speak with a customer service representative.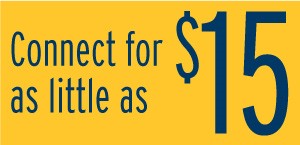 Easy and affordable installation
Think it's costly and complicated to connect your home to natural gas? Think again: it can be as low as $15, you can request installation online, and once scheduled, installation can be completed in less than a day.
Getting natural gas: it's easier than you think
Reducing emissions with innovative renewable energy
BC's natural gas has a part to play in helping our province meet its climate action goals. As part of our 30BY30 target to reduce customers' emissions by 30 per cent by 2030, we're aiming to increase the amount of carbon-neutral Renewable Natural Gas in our system and exploring the possibilities of hydrogen and syngas.2 In fact, we're aiming to have 15 per cent of our natural gas supply come from renewable sources by 2030.
Learn more and sign up to find out when you can get Renewable Natural Gas
Up to $3,000 in rebates
You could be eligible for up to $3,000 in rebates when you connect to gas and replace your oil, propane or wood stove primary heating system with an eligible natural gas space heating system and also have an eligible ENERGY STAR® water heater and outdoor natural gas appliance installed.
Get cosiness and convenience
Natural gas furnaces, fireplaces and cooking ranges are just the start: discover all the ways natural gas can add comfort and convenience to your home, indoors and out.
1 These are approximate annual costs for space heating of a typical household in specific FortisBC and BC Hydro service areas as identified. A typical household is defined as a single family house approx. 2,300 square ft. with average insulation. Anticipated savings will be the difference between annual natural gas, electricity, heating oil or propane costs for various heating equipment.

Calculations compare the most energy-efficient heating equipment currently available for natural gas furnace heating, electric resistance heating, oil furnace heating and propane furnace heating, and are based on FortisBC natural gas rates as of April 2021, FortisBC electricity rates as of January 2021 used for Southern Interior, BC Hydro electricity rates as of April 2021 used for Lower Mainland, Vancouver Island, Whistler and Northern Interior, and heating oil and propane rates as of January 2021 (source: Home Heating Oil & Propane Study, Sentis Market Research, January 2021). Calculations include applicable carbon tax.

Savings may vary by household and do not include potential rebates and/or incentives.

2 Offsetters, Canada's leading carbon management solutions provider, independently reviewed FortisBC's Renewable Natural Gas offering. Offsetters assessed the expected lifecycle emissions savings of Renewable Natural Gas and confirmed that Renewable Natural Gas meets the requirements to be granted Offsetters' Carbon Neutral Product status in BC, in their report Offsetters' Biomethane Greenhouse Gas Emissions Review for FortisBC.