Stories

Ospreys are in the house and ready for their close-up
May 17, 2021
Milder temperatures and longer days have arrived, motivating us to get outside to enjoy all the sights and sounds of spring. But if work or rainy days are preventing you from getting outside as much as you'd like, consider bringing a little bit of the outdoors inside. When you need a break, check out our livestream of a pair of nesting ospreys.
Since 2013, our live Osprey Cam has tracked the activities of a pair of osprey nesting on a platform we installed in Kelowna. Ospreys often mate for life and return to the same nesting site. Our Osprey Cam captures their annual return and follows them through their nest building and chick rearing activities from April to October. Our resident pair have returned and have been busy building their nest.
Osprey Management Program
This nesting platform in Kelowna is one of more than 70 we've installed across FortisBC's electricity service area as part of the Osprey Management Program that we established to deter ospreys from nesting on utility poles.
Ospreys breed near fresh or salt water and build their nests in trees, on poles, platforms and other structures, including utility poles. Ospreys are attracted to utility poles because they resemble their natural nest structures. Falling debris from nests located on energized infrastructure can cause power outages or fires, endangering the birds and people and damaging FortisBC equipment.
When we observe an osprey trying to nest on a live power pole, our crews will place an orange construction cone, or other deterrent, on top of the pole. If an osprey does manage to build a nest on one of our poles, we safely remove the nest and provide an alternate pole with a suitable nesting platform. Osprey generally prefer to make their nest on the highest structure in the area, so when we construct a nesting platform, we make sure it's a few feet higher than nearby infrastructure.
The Osprey Management Program is part of FortisBC's commitment to environmentally sustainable business practices and our overall environmental protection plan.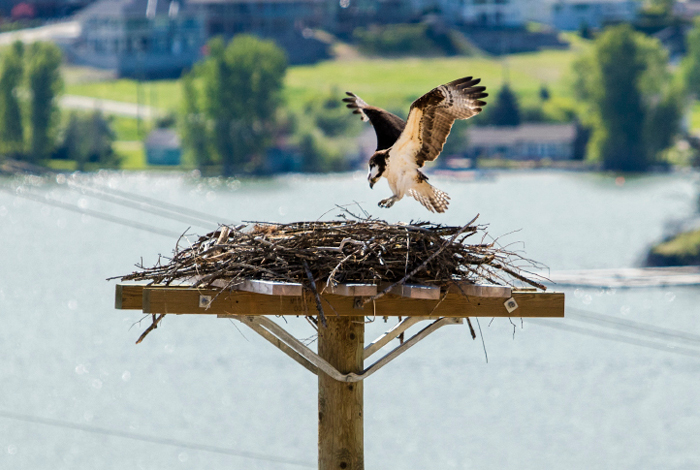 Live Osprey Cam
We're particularly excited about the return of the osprey this year because the viewing experience is so much better. We've installed an upgraded camera to provide a sharper, clearer picture of our feathered guests. Live from Kelowna, this is bird watching at its best. Tune in to our Osprey Cam to see what they're up to now.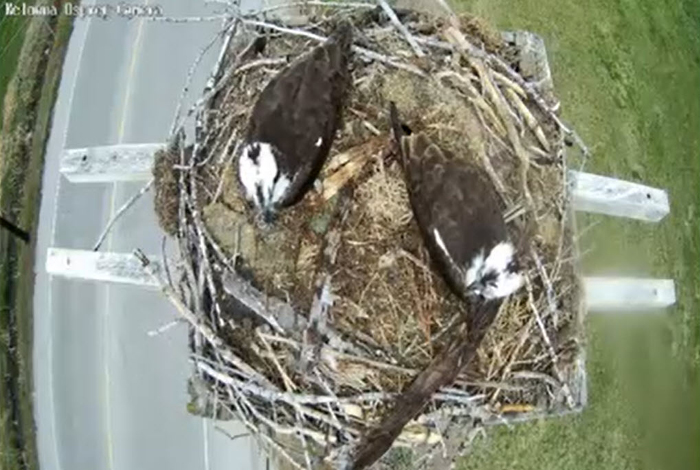 Related stories
More about