Stories

Earth Day, energy and environmental sustainability
April 17, 2019
Sustainability isn't something we do. It's how we do everything.
Sustainability requires a vision for the future—a big picture idea that, as an organization, we can all move toward making a reality. This Earth Day, we are sharing our commitment to being part of the solution in advancing a sustainable, low-carbon future. Our big picture idea is the Clean Growth Pathway – a plan based on the goal of a low carbon economy for BC. It includes our roadmap for improving efficiency, reducing emissions and driving innovation (something we really enjoy) – all while maintaining affordability and choice for our customers.
That affordability is a key part of this conversation for us. If it's not attainable, it's not sustainable. We have heard from our customers that energy costs are as much of a concern for them as environmental progress. Finding ways to use both natural gas and electricity to their maximum benefit helps us make progress on the province's climate goals in a way that keeps money in our customers' wallets.
What's new in renewables?
One of our key values at FortisBC is being progressive; as an organization we constantly seek better ways of operating. One of the most exciting developments is Renewable Natural Gas (RNG). RNG is the result of organic waste—like rotting food or cow manure—decomposing, being captured as biogas, and then purified. RNG can be used to replace natural gas to heat our homes, reducing our carbon footprint locally and globally. RNG also has the potential to mitigate other environmental risks by using this decomposing organic waste, which might otherwise release methane emissions into the atmosphere or cause damage to the watershed.
We are also exploring adding clean-burning hydrogen to our natural gas supply, which can help reduce BC's carbon emissions. Injecting hydrogen into our system may also be an effective means of storing renewable power—such as hydroelectricity, solar and wind—through power-to-gas.
Wait, what?
Here's the situation: Storage of excess power is one of the challenges faced in the generation of solar and wind energy, and often forces electricity generators, like wind power operators, to sell electricity on the spot market at low prices. An alternative is to use the excess energy to generate carbon-free hydrogen gas that is introduced into the natural gas system. This hydrogen can then offset natural gas, reducing emissions and ensuring that the excess energy can be "stored" until it is required.
Working together to lower emissions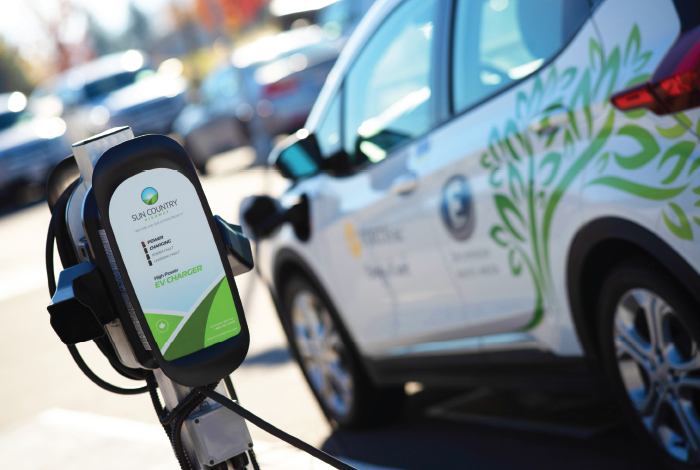 Our carbon capture pilot program is another example of innovative technology helping BC businesses save energy and decrease GHG emissions, while continuing to use affordable natural gas. Over the last year, we've seen three installations of carbon-capture units with great results.
FortisBC is collaborating with communities in BC to increase the use of electric vehicles (EVs) as a cleaner transportation choice. More than 1,800 kilometres of the Kootenay region's highways are now open to EV drivers thanks to 13 strategically placed Direct Current Fast Chargers. The stations are a result of accelerate Kootenays, a unique rural partnership that has the objective of linking Kootenay communities through a clean transportation network.
Ozzie's next tour date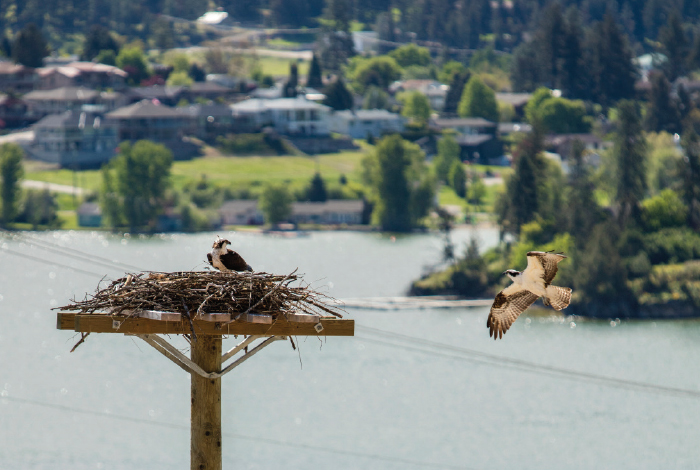 Every year, we operate the Osprey Nest Management Program that protects our electricity infrastructure and keeps these birds safe. Beginning in May, we will once again be kicking off our Osprey Cam, a livestream starring nesting osprey that viewers can watch as they hunt and potentially raise a family. Last year, thousands of viewers watched as a mating pair successfully hatched a fledgling osprey named "Ozzie" by our followers.
Who are the people in your neighbourhood?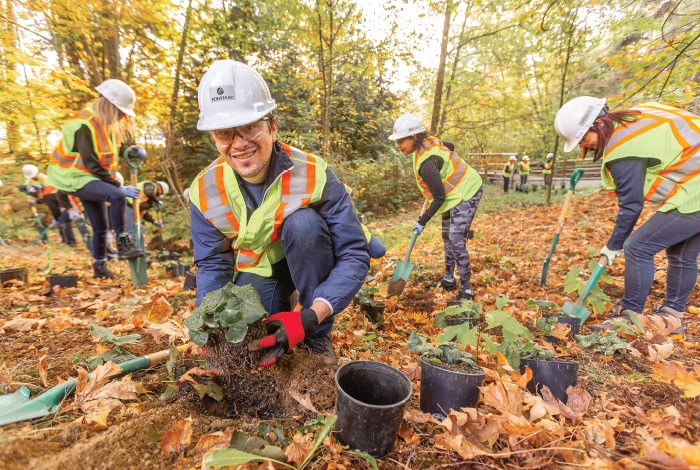 Every year, we provide funding for a variety of community initiatives that work towards improving our communities. This year, our employees helped restore a slope near a decommissioned trail that had been eroding due to human impact. We planted 350 native trees, ferns and shrubs in Burnaby's Stoney Creek Trail system. Along with closing the trail, the native plants are bringing the area near the creek closer to its natural state.
We're also partnering with municipalities to provide energy solutions, including Natural Gas for Transportation in fleet and transit vehicles, which reduces both GHG emissions and fuel costs. And FortisBC is also providing support for local governments in implementing the Energy Step Code recommendations in new builds.
We know that all of us play a role in reducing negative impacts to the environment. We at FortisBC will continue to innovate and operate sustainably, and encourage our customers and community partners to reach out to us to find ways to reduce emissions and support BC's low carbon economy.
Related stories
More about