Stories and news from FortisBC

Mickey and Sebastian can make our rebates work for you
September 16, 2019
How did two BC boys grow up to be TV contractors promoting our energy-efficiency rebates?
Mickey Fabbiano is a licensed contractor who's taken over his family's residential renovation business. Sebastian Sevallo works as a contractor alongside Mickey when he's not fighting fires with the Vancouver Fire Department. Together they host HGTV Canada's Worst to First, a home renovation reality TV show filmed in the Lower Mainland.
Safety and quality are integral in everything they do, whether on the show or in their other jobs. So when the opportunity came up to work with them to help educate homeowners about our energy-efficiency rebates, we knew it was the perfect match.
"We're super excited to be working with FortisBC," say Sebastian and Mickey. "We're totally onboard with helping customers save energy and money plus improve the comfort of their home."
Taking extra steps to ensure quality work
"As a licensed contractor, I know the value of quality work," says Mickey. "For example, a properly insulated home makes it more comfortable and reduces heating costs. But when insulation is lacking, or installed improperly, you could end up with heat loss, or even worse, mold."
"Always use a licensed contractor when making home improvements and be sure you get the necessary permits and inspections," adds Sebastian. "If you cut corners now, you'll pay for it down the road."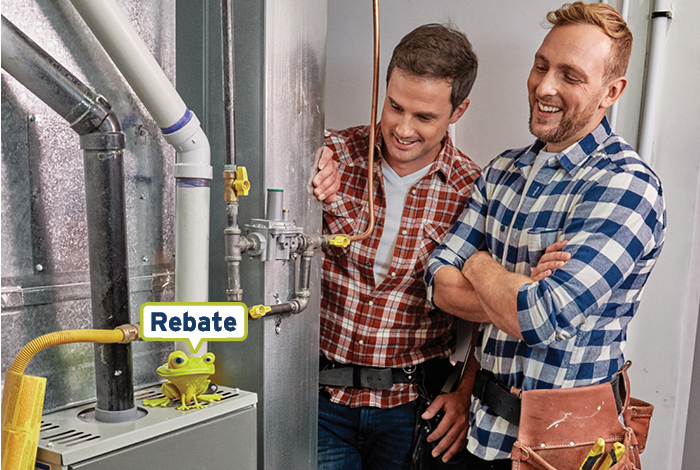 Knowing who to call
But what about installing natural gas equipment, such as furnaces, water heaters and fireplaces? "I'm a licensed contractor, not a gas fitter; we always sub out any gas work," says Mickey. "If you want your new heating system to work as efficiently and safely as possible, always hire a licensed gas contractor," he adds.
You can always find a licensed natural gas contractor through our Trade Ally Network, and if you're having insulation installed we recommend you hire a program-registered contractor for insulation.
See more of Mickey and Sebastian
Check out Mickey and Sebastian's FortisBC commercial below to learn more about rebate-qualified products to help you save. You can also catch them on Global TV.
Learn more about all our rebates on energy-efficient products and equipment.
Watch your favourite programs on HGTV, hgtv.ca/shows/worst-to-first.
Related stories
Find more news
Subscribe to FortisBC news
Our newsletters provide energy-saving tips, project news, contests and more for residential and commercial customers.