Stories and news from FortisBC

5 helpful tips when applying for rebates
November 4, 2019
Updated October 8, 2020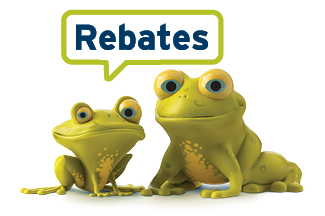 Is it time to replace your old furnace or other natural gas equipment? Good news, we've got some rebates that will help you save money and energy.
We want to make sure you're rewarded with every possible dollar you deserve so we've come up with some tips to help ease you through the rebate application process.
1. Use our online rebate checker tool
Each rebate webpage has a list of rebate-eligible models or product eligibility requirements. For natural gas heating equipment, we also have a rebate checker online tool. You can access it via the applicable program rebate webpage and search using just the manufacturer's name, or even a partial model number. Or, if you know the model number of the natural gas heating equipment you want to have installed, use the rebate checker to check to see if your model is eligible. Currently, model numbers for the following equipment are available:
furnaces
boilers
combination systems
natural gas water heaters
fireplaces
2. Check the deadlines
Before you purchase or have your upgrades installed, be sure to check the rebate deadlines and program terms and conditions. There's an "Eligibility" section for each rebate webpage outlining how you can qualify for rebates, which includes application deadlines. Most upgrades require you to submit your application within six months of the invoice date.
If participating in any time-limited promotions be sure to check the deadlines and requirements for those as well.
3. Include the permit number on your application
When a licensed contractor installs a natural gas appliance they must pull a permit for the work. To avoid a delay with your application, ensure the invoice from your contractor includes the following:
Helpful hint: before you have the licensed contractor come to perform the work, look over the "How to apply" section on the applicable rebate webpage and be sure to gather all relevant information from your contractor when they're at your home so you don't have to track it down later.
If you hire one of our Trade Ally Network contractors, they know all about the application requirements for our rebate programs. You can also check out our tips for hiring a contractor to find the right questions to ask before you select your contractor..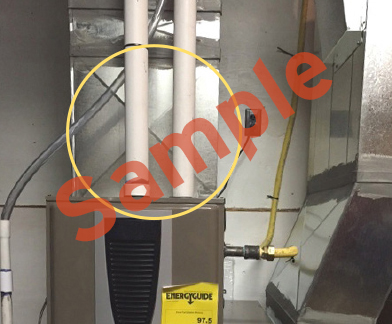 4. Take clear photos of your furnace, boiler or combination system
The natural gas furnace and the natural gas boiler and combination systems applications require a photo of the installed two-pipe direct vent system submitted with the application. The photos must show the two-pipe direct vent system connecting both pipes from the furnace, boiler or combination system into the wall or ceiling.
Be sure to check out Five things to know before your new high-efficiency furnace is installed to make sure you are prepared for the installation and you know what to look for.
5. Review your application
Last but not least, review your application before you hit submit to make sure all relevant fields and information are complete. This is a small step that can save you time and money. To complete your application, you'll need to upload a copy of your invoice; the commissioning sheet if installing a furnace, boiler or combination unit and the photo (as mentioned in tip 4). An important tip to avoid a delay in receiving your rebate is to ensure the model number is the same on both your rebate application and your invoice.
Ready, set, rebates
You can apply using our online application, a link to which can be found under each individual rebate webpage accessible via rebates and offers.
And remember, we're always here to help, so if you have questions about our rebates call 1-855-909-2329 or email homerebates@fortisbc.com.
Related stories
Find more news
Subscribe to FortisBC news
Our newsletters provide energy-saving tips, project news, contests and more for residential and commercial customers.