Stories and news from FortisBC

5 helpful tips when you're applying for rebates
November 4, 2019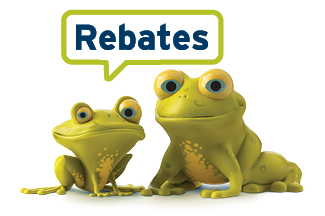 Is it time to replace your old furnace or other natural gas equipment? Good news, we've got some rebates that will help you save money and energy.
We want to make sure you're rewarded with every possible dollar you deserve so we've come up with some tips to help ease you through the rebate application process.
1. Checking your model number
For each rebate, we've compiled a list of eligible models. Check out our eligible model lists on the rebate pages or use our online tool to search by model number for rebate eligible appliances including:
furnaces
boilers
combination systems
water heaters
fireplaces
In addition to your rebate application, you'll also need to include a copy of your invoice. An important note is to ensure the model number is the same on both your rebate application and your invoice.
2. Checking the deadlines
Before you purchase or have your appliance installed, be sure to check the rebate deadlines and program terms and conditions.
There's an "Eligibility" section for each rebate page outlining how you can qualify for rebates which includes application deadlines.
For example: to be eligible for the natural gas water heater rebate, the application must be submitted within six months of the invoice date and dated on or after January 1, 2019.
3. Including your permit number on your application
When a licensed contractor installs a natural gas appliance they must pull a permit for the work. To complete your application, ensure your contractor provides you with: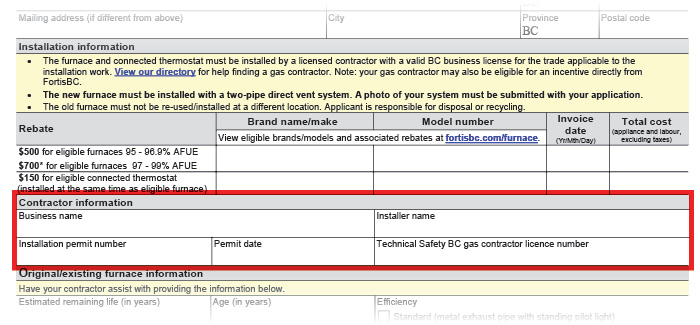 Helpful hint: before you have the licensed contractor come to perform the work, look over the rebate application – especially the areas highlighted above – and be sure to gather all relevant information from them when they're at your home so you don't have to track them down later.
If you hire one of our Trade Ally Network contractors, they know all about our rebate programs and may be able to help you with your rebate application. You can also check out our tips for hiring a contractor to find out the right questions to ask before you hire your contractor.
4. Taking clear photos of your furnace, boiler or combination system
The natural gas furnace and the natural gas boiler and combination systems require a photo of the completed installation.
Customers or contractors must photograph the two-pipe direct vent system installation and send the photos along with the rebate application and commissioning sheet to qualify for these rebates.
The photos must show the two-pipe direct vent system connecting both pipes from the furnace, boiler or combination system into the wall or ceiling.
Be sure to check out Five things to know before your new high-efficiency furnace is installed to make sure you are prepared for the installation and you know what to look for.
5. Reviewing your application
Last but not least, review your application to make sure all relevant fields and information are complete. This is a small step that can save you time and money.
Ready, set, rebates
You can apply using our application forms that can be found under each individual rebate on the FortisBC rebates and offers page.
Our biggest recommend for a successful rebate application is to review your application to make sure all fields are completed and you've submitted the required supporting documents. Need some more help? Check out our video on how to apply for natural gas rebates.
And remember, we're always here to help so if you have questions about our rebates call 1-800-663-8400 or email rebates@fortisbc.com.
Related stories
Find more news
Subscribe to FortisBC news
Our newsletters provide energy-saving tips, project news, contests and more for residential and commercial customers.