Stories and news from FortisBC

3 reasons to get charged up on EVs
October 8, 2019
Did you ever think that one day, you would plug your car into a wall overnight to get power?
Our manager of innovative initiatives Michael Leyland certainly didn't until recently, when he felt the surge to get his own electric vehicle (EV).
Surprisingly, EVs aren't a new invention. The first four-wheel EV was actually developed in the late 1800s, after many milestones including the discovery of electricity itself. Today, it's a staple choice for passenger transportation in BC with a number of benefits over its gasoline-powered counterpart.
Benefits that have jolted Michael rather quickly.
"The instant torque of that EV has made driving fun again," he said.
But the benefits go well beyond instant acceleration. So if you're on the fence about ditching the gas pump for the wall socket, here are a few others to consider – our top three E's for owning an EV.
Environment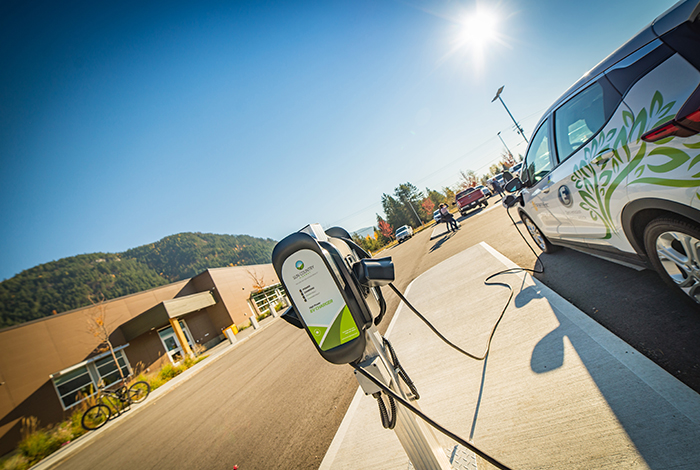 EVs are a clean energy choice in transportation and help advance provincial climate action goals.
Compared to its gasoline or diesel counterparts, EVs are virtually emission free, meaning they don't contribute any greenhouse gases, particulate or carbon dioxide to our environment; all of which, according to climate experts, contribute to climate change.
Economy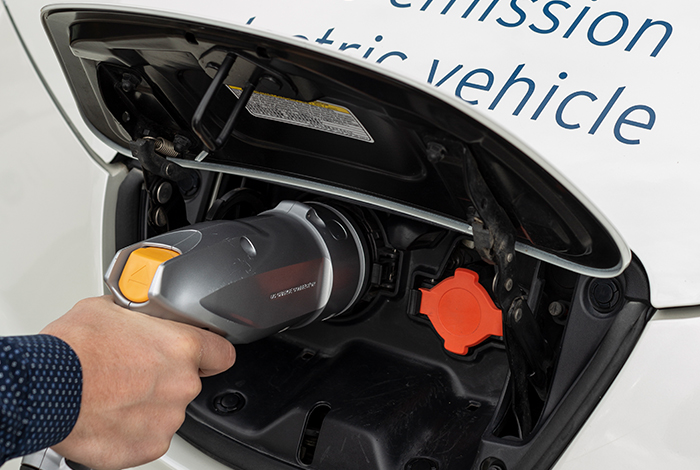 It's cheaper to plug in your car than to fuel up at the pumps.
While cost varies based on how much you drive, EVs can cost as little as $320 per year to charge, according to Plug In BC. On the other hand, Plug In BC estimates the average British Columbian spends an estimated $2,400 per year fueling their gasoline vehicle.
Here at FortisBC, we're trying to help.
At one of our public Direct Current Fast Charging (DCFC) stations, rates are $9 per half hour of charge time. For a typical compact EV, the ability to travel an estimated 140 kilometres would cost $10.80.
By comparison, the average gas vehicle would cost around $18.63 to fill up enough to travel that same distance. Now we're assuming that gas costs $1.35 per litre with those numbers, but gas has risen as high as $1.70 in BC in 2019.
"My EV has been much cheaper to operate," shared Michael. "But here's something else I've noted. Operating costs for a battery are minimal compared to a gasoline engine – no more oil changes and I have a full "tank" every morning after a few hours of charging overnight in my garage."
Speaking of charging at home, if you want to plug in your car when you get home from work so it's ready to go in the morning, FortisBC can help make that easier too.
We're pleased to be administering the provincial government's CleanBC EV Charger Rebate Program for our electricity customers. Homeowners can qualify for up to a $350 rebate to install a charging station in a single-family home and up to a $2,000 rebate for stations in locations such as condominiums, apartments and workplaces. More information including the ability to apply is available for single-family homes, or for apartments and workplaces.
Ease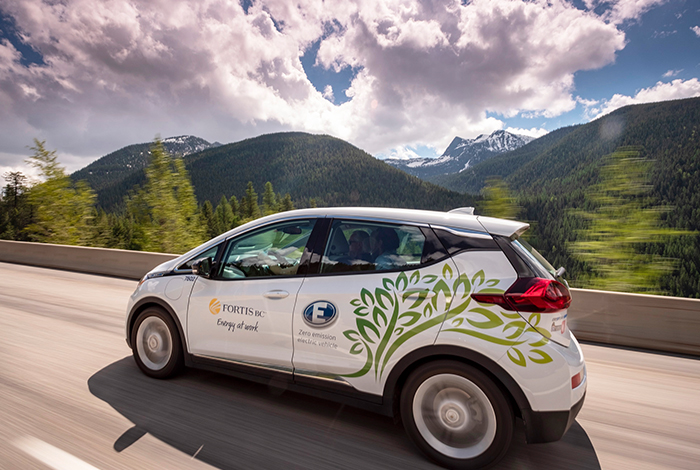 A growing number of charge stations at key locations means you can travel with confidence.
To support the switch to EVs, organizations like FortisBC and all levels of government have increased investment in charging stations. Earlier this year, FortisBC opened two new fast charging stations at the Kelowna International Airport, a travel hub in BC's Interior, and will build 10 more this year at key spots throughout the Okanagan and Kootenays. These stations mean that local drivers, and those passing through these popular road trip destinations, can travel these areas with confidence.
Worried about how long you can travel on a single charge? Don't be.
A 30-45 minute charge at a DCFC station could bring back 80 per cent of battery life if it were at zero per cent to begin with. Add that to the fact that the average new EV battery has 200-300 kilometres in it before it needs a charge and you can really cover some ground when driving.
"Investments in charging infrastructure are critical to supporting drivers considering the transition," explained Michael as he put his proverbial FortisBC hat back on.
"We need this infrastructure in place in key locations to ensure drivers are comfortable and supported for long drives. That's why FortisBC is committed to building more charging stations in key locations, such as close to highways."
With 17 fast-charge stations in place by the end of the year, and plans to have upwards of 30 in the next few years, we want to ensure EV drivers can travel with confidence across our electric service territory.
In the meantime, all you really need is an outlet and access to electricity, and that could be at work or at home, which is what Michael does.
"I just plug in my car in the garage when I get home from work and it's ready to go when I leave in the morning. No more having to stop every week at the gas station and spend $60 - $80 on fuel. The cost to charge at home is $10-$20 a week now for me, which is pretty awesome."
Ready to power up?
Supporting customers who are choosing cleaner options for transportation is one of the ways FortisBC is helping reduce greenhouse gases (GHG) and tackle climate change in our province.
But EVs are just a part of it – we're committed to reducing emissions in commercial transportation as well. We've helped convert about 850 commercial vehicles and seven marine vessels to cleaner natural gas so far, and there are now 19 compressed natural gas fuelling stations around BC. Finding ways to reduce emissions from the transportation is a key part of our 30BY30 target – our aim to reduce our customers' GHG emissions by 30 per cent overall by the year 2030.
So get charged up about EVs. It's an opportunity for each of us to personally make a positive contribution to climate action, and go easy on our wallets while we do it.
For more information, please visit pluginbc.ca.
Related stories
Find more news
Subscribe to FortisBC news
Our newsletters provide energy-saving tips, project news, contests and more for residential and commercial customers.