Media centre details

Martini Film Studios Subscribes to Renewable Natural Gas Provided by FortisBC
Feb 2, 2022
Langley studio takes a milestone step towards achieving net zero by the end of 2022
February 2, 2022 (Langley, BC): Martini Film Studios is pleased to announce its entire studio is now operating on Renewable Natural Gas (RNG). The Langley-based studio is the first film studio in British Columbia to sign up for this carbon-neutral energy innovation supported by FortisBC, one of the province's largest energy providers.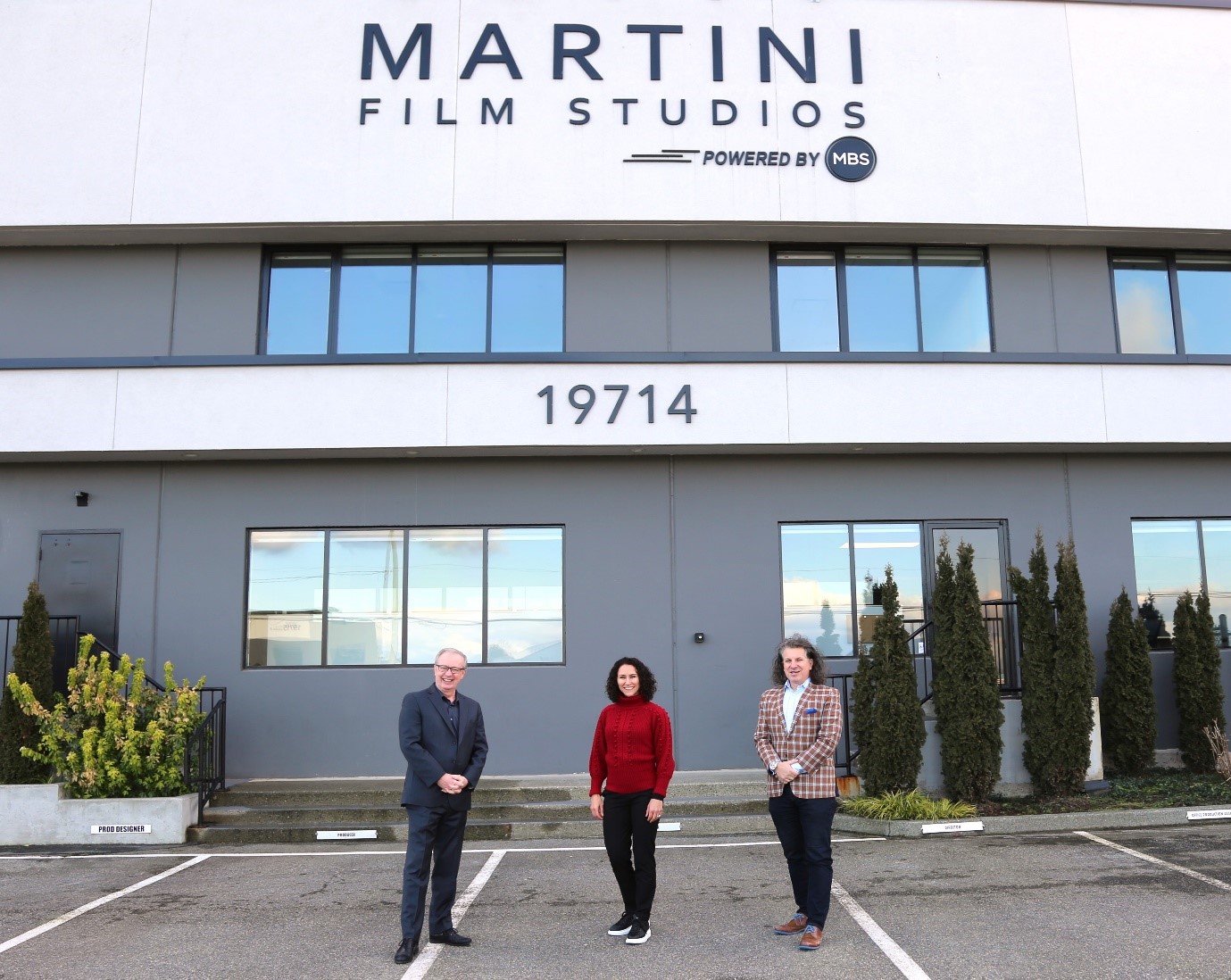 Vladmir Kostka, key account manager at FortisBC; Gemma Martini, president & CEO of Martini Film Studios; and Jason Wolfe, director, energy solutions at FortisBC pose in front of the studios.
Renewable Natural Gas is derived from biogas, which is produced from decomposing organic waste in landfills, agricultural waste and wastewater from treatment facilities.
When bacteria break down organic waste, the process produces a biogas mostly made of methane – a greenhouse gas that impacts the earth's temperature and climate system. FortisBC works with local farmers, municipalities and energy companies to capture and purify methane that would otherwise escape into the atmosphere, creating carbon-neutral RNG for customers like Martini Film Studios.
Martini Film Studios incorporates sustainable technologies and practices throughout its studios, supporting its goal to reach net zero by the end of 2022. The studio also sits on the Advisory Committee of Reel GreenTM, an initiative that equips productions with resources to implement sustainable practices and reduce their environmental impacts. Now, with the studio operating entirely on RNG, the company is helping to eliminate greenhouse gas emissions while supporting fuel security, improving local air quality, and boosting economic revenues through reduced energy bills.
"We are committed to reaching net zero energy use by the end of 2022, helping our tenants and productions reduce their carbon footprint while continuing to create world-class film and TV productions," said Gemma Martini, CEO of Martini Film Studios. "An important step towards reaching our goal is switching our gas supply to RNG, with the support of FortisBC. We are investing in a range of initiatives and technologies to reduce the energy used in our studios and honour our commitment to the Reel Green production initiative here in BC, and this is a great first step."
"FortisBC is thrilled to work with Martini Film Studios to help them to reach their sustainability goals and we're proud they chose RNG to achieve immediate reduction of their studio's greenhouse gas emissions," said Jason Wolfe, director of energy solutions at FortisBC. "One of the advantages of using Renewable Natural Gas is that it's a drop in fuel, so customers are able to do their part to lower greenhouse gas emissions without having to change any of their natural gas appliances or equipment."
"When B.C.'s motion picture industry takes material action toward environmental sustainability, Reel Green strategies, objectives and vision are realized," said Prem Gill, CEO of Creative BC and sponsor of the industry-led Reel GreenTM initiative. "We applaud the leadership and investments of Martini Film Studios, as founding members of the initiative and active drivers of green transformation."
FortisBC supplies a variety of businesses with RNG to help them lower their greenhouse gas emissions. Martini Film Studios is their first entertainment industry customer.
For more information on FortisBC's Renewable Natural Gas, visit fortisbc.com/RNG. To learn about Martini Film Studios' sustainability initiatives, visit www.martinifilmstudios.com.
Media images are available for download here.
Media contact