Flat rate calculator

Like most utilities, FortisBC reviews their rate structure periodically to make sure each customer class is fairly charged for their share of the cost of providing their service.
In February 2019, the BC Utilities Commission approved our request to return to a single, flat rate over five years for residential customers.
Over the phase-in period, we will slowly reduce the rate at the higher tier and increase the rate at the lower tier, resulting in a single, flat rate in 2023.
On July 1, residential rates will change as FortisBC begins to return to return to a single, flat rate and make other changes related to how our rates are structured.
To find out the potential impact for you, enter the amount of electricity you have used over the last year in two-month increments.
You can find this information on Account Online, on your bill statements or by calling our customer service team.
Note: the impact on each household varies greatly, depending on your electricity use each billing period.
Find out more about how we are returning to a flat rate.
Electricity use (kWh)
Month 1 and 2
Month 3 and 4
Month 5 and 6
Month 7 and 8
Month 9 and 10
Month 11 and 12
Annual use
0
Using current rates as a benchmark, the table below provides a comparison of your estimated electricity costs under a two-tier rate and a single, flat rate.
It also shows how this change will occur in increments over the phase-in period.
| | | |
| --- | --- | --- |
| | Annual amount | Estimated change |
| Estimated cost under current two-tiered rate: | $0.00 | n/a |
| Equivalent flat rate comparison: | $0.00 | 0% |
| Incremental change in the first year of implementation: | $0.00 | 0% |
*This is for reference only. The calculations are based on January 2019 rates compared to the first phase-in of a single rate, effective July 1, 2019. Under an equivalent flat rate, all residential customers would be charged 11.749 cents per kilowatt-hour, and a basic customer charge of $18.70 per month. View current rates.
See how your electricity consumption compares
Most FortisBC customers (70 per cent) use less than 11,000 kWh per year, while about 10 per cent of FortisBC customers use more than 20,000 kWh.
See where your use fits.*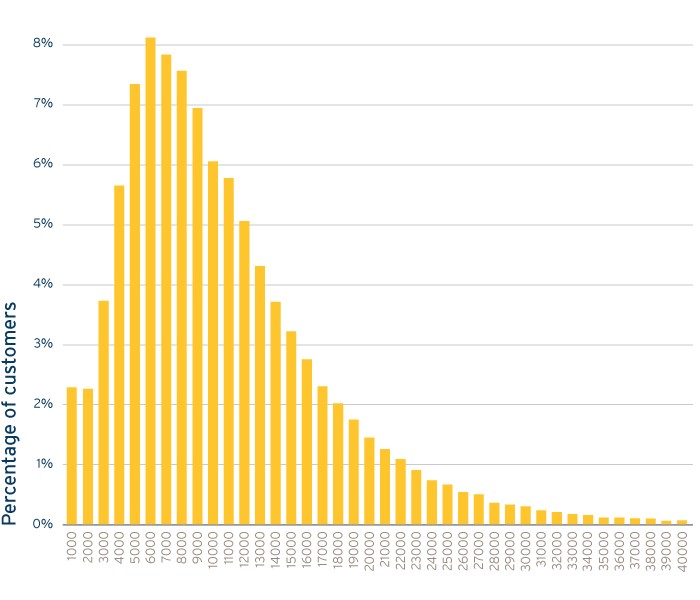 * Based on the actual 2016 consumption data from FortisBC's residential electricity customers.