Can energy conservation really curb greenhouse gas emissions?


The more we understand how we can conserve energy every day in homes and commercial buildings, the better we'll be at making decisions to reduce our greenhouse gas (GHG) emissions. That's why at FortisBC, we're rethinking energy conservation for our customers through innovative technologies and increasing investment in energy-efficiency programs for homes, businesses and industry. It's all part of our 30BY30 plan and how we're rethinking a lower carbon future for BC.
Expanding our energy efficiency efforts for customers
The BC Utilities Commission approved our application to almost double our spending on our energy-efficiency education and rebate programs in 2019 and nearly triple these expenditures by 2022. With this approval, we're expanding our overall energy-efficiency investment to a forecasted $368.5 million over this four year period. In the first year of this investment, we achieved energy savings of over one million Gigajoules (GJ) from our gas operations alone. We'll continue to expand our efforts in seeking innovative solutions that we believe will not only significantly reduce emissions, but also keep energy affordable for our customers.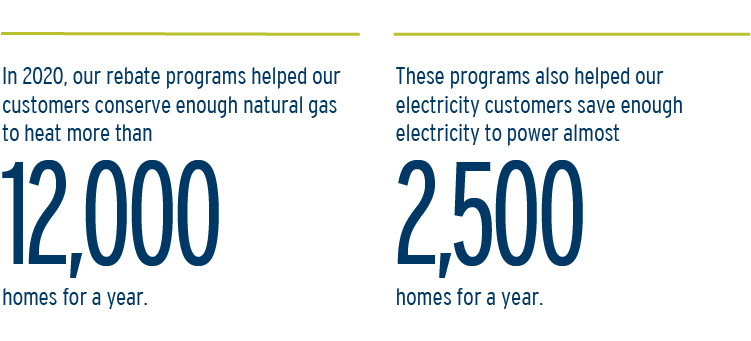 Reducing Greenhouse gas (GHG) emissions and home energy costs
Our rebate programs are designed to help our customers make better energy choices at a lower cost. In the case of high-efficiency furnaces and water heaters, insulation, windows and doors, for example, the energy savings can be significant. Rather than encouraging our customers to replace individual appliances with high-efficiency options, we give them the information they need to understand their home's entire energy needs.
When they're ready to move forward with improving their home's energy efficiency, we provide a directory of licensed contractors who are educated in energy-efficient equipment and products and can provide a quality installation.
Saving energy in your home and business
Knowledge is one of our greatest assets when it comes to energy conservation. The Home Energy Calculator, for instance, will let you calculate your estimated home energy costs including water and space heating using different fuel sources. Plus, we launched a new convenient tool called My Energy Use that lets you put together an energy-saving action plan, set goals and earn reward points that can apply as a credit to your energy bill. In addition, we provide online resources, such as valuable advice and practical how-to's to help our customers take even more control of their energy usage.
Partnering with business for meaningful change
Home energy savings are great, but we'll achieve our biggest decrease in energy use with business and industry. From wineries and food processors to steel manufacturing and pulp and paper mills, industrial facilities need a lot of energy to operate. Transitioning to an energy efficient business can reduce operational costs and provide a more comfortable environment for customers and staff. That's why we're collaborating with our business customers to find ways to save energy, which can improve their bottom line and ultimately contribute to a lower carbon future for BC.
Ridge Meadows Hospital
A great example of conservation at work is the Ridge Meadows Hospital space and water heating systems upgrade. Hospitals have a high demand for heat and hot water to support patient care, control infection and ensure sterilization. The project spanned three years and included the installation of a new high-efficiency condensing natural gas boiler and upgrades to ventilation system controls, qualifying the Fraser Health project for more than $289,000 in rebates from FortisBC.
Since project completion, Ridge Meadows Hospital reports that they've maintained an annual GHG emissions reduction of 25 per cent and are saving approximately 9,800 gigajoules (GJ) of natural gas per year, equal to almost 25 per cent of the hospital's annual natural gas use.
Molycop Canada
In 2012, Molycop Canada was one of the first participants in FortisBC's industrial energy-efficiency programs. The company received combined rebates of $440,000 to implement energy-efficiency measures, which are estimated to save about 31,400 gigajoules of natural gas annually. In addition, FortisBC supported the studies and capital upgrades with combined rebates of approximately $250,000, which is expected to reduce natural gas usage by 8,900 gigajoules per year.
By working with our industry partners on upgrades to conserve energy and control emissions, we're identifying high-efficiency natural gas solutions with equipment that's cost-effective, while maximizing greenhouse gas reductions.
Business owners? Get in touch
Let us help you with your natural gas and electricity needs—like opening a new account, increasing energy efficiency and decreasing your bills.